---
OTHER SELECTED NEWS ITEMS
THINKING OF ENTERING SOMETHING IN THE FLOWER & HOBBIES SHOW?
The Garden Club's Flower & Hobbies Show for 2018 takes place on Saturday 11th August, which from memory is a slightly earlier date than in most recent years. We understand that the full schedule of classes will be published in the July and August editions of Steeple & Street (and hopefully on the website), but if you're thinking of entering something in the Art and Handicrafts classes and want to get working on it early, you can find details of those classes either in the June S & S or by clicking here.
SUPPORT VILLAGE FACILITIES AND WIN CASH PRIZES WITH THE 100+ CLUB!
With the end of the Club year fast approaching it is time for existing members to renew your numbers and an opportunity for new members to join this Club to raise vital funds to maintain the village facilities on the playing field—specifically the children's playground, the MUGA (multi user games area) and the Memorial Centre.

Club members participate in the monthly Club Lottery with a prize fund of up to £100 as well as the special Christmas draw with prizes of £300. Existing members should follow the instructions in your renewal letter to continue for another year. To find out more about joining the club or renewing your membership, click here.
HAVE YOUR SAY ON RURAL CRIME AND POLICING IN WILTSHIRE.
(Extracts from an email sent by the neighbourhoodalert.co.uk website people.) "There are just a few days left for rural communities to have their say on crime and policing where they live.

The National Rural Crime Survey comes to an end on 10 June 2018 and is asking key questions to ensure the voice of the countryside is heard. Do you think rural crime has gone up or down in Wiltshire? Do you feel safer? What's your view of the police in your community?

Three years ago the last National Rural Crime Survey revealed the huge cost of crime to rural communities—both financial, at £800 million per year, and fear, with chronic under-reporting, anger and frustration at the police and government. The National Rural Crime Network produced a series of recommendations and, in many areas, the police took steps to improve matters. So, now, we want to know what's changed. We want to know the true picture of crime and anti-social behaviour in rural communities across Wiltshire—and the impact it has where you live or work."

For more information about the survey you can read the whole text of the release by clicking here. Or to go straight to the online survey itself, click here.
FAIRY MISSING FROM COMMON RD GARDEN.

A Common Road resident has just emailed us with a sad and worrying story about the theft of a garden ornament (see left) of great sentimental value to her and her husband. She is particularly concerned in case this might be the start of a spate of such thefts in the village, and wants to warn residents to try to make their own garden ornaments secure.

As she writes: "[the fairy's] dimensions are weight approx 4.5kg, height 54 cm. We are extremely surprised that someone who walks past our garden has seen it and decided to come into our garden and take it. We have reported the theft to the police but are concerned that now this has happened maybe other things may be taken by this opportunist . . . I would ask if anyone has seen anything or knows of someone that has recently acquired a fairy, where they got it from? We would really love to get her back. We are extremely upset and are now concerned that this type of thing could happen again in this area."
WARNING FOR TSB CUSTOMERS.
It seems possible that Whiteparish might have a higher-than-average proportion of TSB Bank customers, since the former Lloyds Bank branch in Romsey became a TSB branch fairly recently. But whether or not that's so, TSB customers need to be aware of recent increased activity by fraudsters hoping to take advantage of TSB's recent difficulties with its online banking services. Action Fraud reported an increase of 970% in attempted phishing attacks on TSB customers during the first 3+ weeks of May 2018, compared with the same period in the previous month. For more details of how to avoid being taken in by the phishing attacks just referred to (and "smishing attacks", too), click here to see Action Fraud's notice in full.
AREA BOARD MEETING.
The next meeting of the Southern Wiltshire Area Board (SWAB) will be held at Pitton Village Hall on Thursday 3rd May, at 7.00 pm. To see the agenda, click here.
KING'S HEAD PLANNING APPLICATION.
At a meeting of the Wilts Southern Area Planning Committee held on April 12th 2018, the commitee passed planning application 17/12499/FUL & 18/00274, relating to the following proposed work at the King's Head: "Single Storey Rear Extension (Orangery) to Pub Building & Separate Barn Conversion/Restoration with extension to provide Lodging".
BEAST FROM THE EAST 2 = NOT SO "MINI".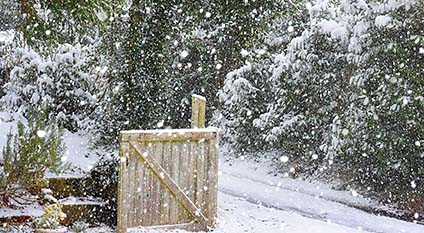 After what the press called "the beast from the east" gave us a pretty good snowfall at the beginning of March, we were promised what they rather unoriginally called "the Mini-beast from the east" a couple of weeks later. And it duly turned up on the night of 17th/18th March. The forecast had suggested it would peter out in the early hours, but it didn't, and when we opened the back door at 8.00 a.m. it was coming down in bucketfuls (see pic). Thawed somewhat during the day, but forecast suggests there's more to come overnight. We'll see!
GOING TO THE TIP? DON'T FORGET YOUR ID!
Wiltshire Council's Waste Management dept are introducing a proof-of-address scheme at Wiltshire's recycling centres, which will of course include the Household Recycling Centre on Salisbury's Churchfields Industrial Estate. From the 9th April 2018, if you want to use any of the county's recycling centres you may be asked to provide proof of address, such as your driving licence, a county tax bill, or a utility bill. This policy is being introduced "to ensure that access to sites is protected for those people resident in the Wiltshire Council area. Dealing with waste is becoming increasingly expensive and as these sites are funded by Wiltshire Council tax payers we need to ensure that we do not incur costs associated with receiving waste from people from other council areas. People who do not pay their council tax to Wiltshire Council should use the sites provided in their own local authority area."

For more information, see the Salisbury Recycling Centre's web page, which includes links for downloading PDF files for summer and winter opening hours.
OPEN SPACE IN HIGHLANDS WAY.
Wiltshire Council's Countryside Team is looking for volunteers to help look after the small area of green space at Highlands Way. Could you help them? This small wooded area is on the right hand side as you enter Highlands Way. It's excellent for nesting birds, and as it contains several fruit trees it is also a good food source for wildlife. Please contact them if you'd like to get involved as a volunteer–families also welcome–to help look after this site for wildlife and nature conservation. With no previous experience necessary and no long-term commitment required, this provides a great opportunity to get out and about, meet new people and gain new skills as you try your hand at a variety of fun conservation tasks.

Work would involve cutting back overhanging vegetation, keeping the path clear of nettles/brambles, and a litter pick. We'll also see whether the area would benefit from bird or bat boxes, and look at ways that we could enhance it further for wildlife. Our next Conservation Working Party dates are as follows: Thursday 15th February, Thursday 5th April, Thursday 30th August, Thursday 27th September.

Interested? Please contact the Countryside Team by emailing mailto:countryside@wiltshire.gov.uk<, or telephoning 01225-718647. The countryside team say a big thank you to the conservation volunteers that came along to help clear back vegetation and bring the area back under control before Christmas, we couldn't have done it without you!
REVD. NILS BERSWEDEN MOVING ON.
As many residents may already know, the following announcement was made in the Clarendon Team churches a few weeks ago:

"The Bishop of Southwark has invited the Revd Nils Bersweden to be the Associate Vicar at St. Mary's Wimbledon in the Diocese of Southwark. Nils will take responsibility for a pastoral portfolio to develop lay ministry, vocations and pastoral care at St Mary's. The appointment is subject to the usual statutory checks, after which Nils will be licensed on 5th February 2018. Nils's last service will be a Team Eucharist on 7th January at All Saints' Winterslow."

According to Steeple & Street, that last service will be followed by a "Bring and Share" lunch in Winterslow Village Hall and if Nils or Judith have touched your lives, you may like to be there. According to the Clarendon Team's website the service will be at 10.00 am, but it may be a good idea to recheck that website closer to the time, or to check the January issue of Steeple & Street.

In a setting that's very different from the rural Clarendon parishes, St Mary's Wimbledon is an imposing and handsome Victorian church. It was designed by George Gilbert Scott, who was responsible for many well-known buildings in that era, including the Albert Memorial and the Foeign and Commonwealth Office. And for a piece of popular music trivia tenuously associated with St. Mary's, click here.
HUNDRED-PLUS CLUB CHRISTMAS PARTY.
This is just a reminder about the 100+ Club Christmas Celebration and Double Draw this Saturday (9th).

If you haven't yet bought your tickets at the shop, please either do that soon or or let us know by return if you'll be buying them on the door, as this will assist greatly in our catering arrangements.

For those of you who already have tickets, I'm sorry to clutter your inbox, thank you for your support and we look forward to seeing you on Saturday!.

John Herrett
for the Memorial Trust Trustees
MEMORIAL TRUST AGM.
The Trustees invite all Whiteparish residents and users of the Memorial Ground and Centre to attend the AGM on Saturday January 20th at 10:30 in the Cowesfield Room. The Whiteparish Memorial Trust is your charity, please attend to hear details of the Trust's activities in 2017 and help shape the events planned in 2018.

For more information, including the AGM Agenda, click here
WILTSHIRE SPATIAL PLAN.
Looking a long way ahead, Wiltshire Council have launched a six-week consultation to "Help shape Wiltshire's plans to 2036", by gathering comments to feed into their Local Plan Review. The consultation period started on 7th November and closes at 5.00 pm on 19th December 2017. For more details, click here to see the Notification Letter.
HALLOWEEN IS CREEPING UP ON US . . ..
. . .say Wiltshire Police. For some Halloween-related advice sent out by Katrina Fleet (Police Communications Officer, Wiltshire), including some tips from Superintendent Phil Staynings, Head of Crime Prevention, click here. For a poster to display if you don't want to be Trick-or-Treated, click here.
DO YOU WEAR A HEARING AID?.
If you wear an NHS hearing aid from Salisbury Hospital, you may be interested to know about a new "Hear to Help" walk-in hearing-aid clinic to be run on the third Friday of every month at Alderbury Village Hall between 1000 and 1130 am. Services and topics covered will include new batteries and earmould tubing; advice on using and cleaning your hearing aid, and information on hearing loss and the services that can help you. For full details, click here.
WILTSHIRE PARKING CHARGES.
Wiltshire Council are currently running an online consultation about parking charges in the county. According to the Salisbury Journal ( 5th October) the council wants to increase parking charges by an average of 12%. So you may want to contribute to their consultation on the proposal by clicking here. The consultation period ends on 23rd November.
DO YOU FEEL SAFE ONLINE?.
Anyone over 60, or over 18 and registered disabled, is elegible for online safety advice from the Wiltshire Bobby Van Stay Safe Online team of police-trained and vetted volunteers. For more details of what they can provide, and how you can book an appointment, click here.
THIS YEAR'S WINTER BALL.
Sarah Skeates of this year's Winter Ball committee writes:
"Dear Memorial Centre Users,
Following last year's very successful Winter Ball, raising nearly £2000 for the improvements to the play area (we hope you have seen the new equipment), The Whiteparish Memorial Trust is organising the second Winter Ball, at the Memorial Centre, on Saturday 2 December 2017.

The objective of the event is to raise funds to make improvements to the kitchen at the Memorial Centre.

If you are a Memorial Centre user or a club, group or organisation that uses the kitchen we hope you would like to support this event in some way. Following last year's very popular raffle prizes of Christmas hampers we are repeating this again. We are asking for items to fill them. We wondered if you could donate items, either individually or as a group which would help us in this endeavour.

We would like biscuits, chocolates, crisps and crackers, wine, or anything suitable for a lovely Christmas hamper . . ."

For the whole of the Winter Ball committee's letter, including details of how to donate hamper items, click here.
TEMPORARY CLOSURE OF CHURCHFIELDS RECYCLING DEPOT.
Wiltshire Council have announced that the Churchfields recycling depot (at the end of Stephenson Rd) in Salisbury will be closed for a 'revamp' between the 9th and 18th of November, inclusive. This is part of a rolling programme of work affecting many (possibly all?) of the recycling depots in the county. For more information, including which alternative recycling depots will be available while the Salisbury depot is being refurbished, click here.
PARTIAL CLOSURE OF MOOR LANE, STARTING 4 OCT 2017.
Wiltshire Council's Sustainable Transport Group have announced that about 1.25km of the length of Moor Lane, from the junction with Grove Lane/Timberley Lane to near Titchborne Farmhouse, will be closed to all traffic for between two and five days, starting on 4th October 2017. For more details, click here to see Wilts Council's notification in full; and click here for a plan highlighting the affected section of road.
WHO ARE YOU TODAY?
(From local charity "Carer Support Wiltshire".)
Mother, husband, grandmother, brother? Teacher, office manager, student, electrician? If you are looking after someone who couldn't always manage without your help: someone with a physical disability, long term health condition, mental health issue or a problem with substance misuse, you may also be a carer.

Juggling a caring role around work, studying, seeing friends or spending time with other family members can be challenging. And sometimes it can feel lonely. Carer Support Wiltshire are a local charity supporting unpaid carers in Wiltshire. Our Carer Cafes and Support Groups are held throughout the county and offer information, advice and the opportunity to make new friends over a cuppa. Visit our website to find one near you or call us on 0800 181 4118 or 01380 871690 from a mobile for a copy of our "What's On" guide.

Note: Whiteparish Surgery hosts a Carers' Coffee Morning every other month, on a Saturday morning. For dates and times, check the Forthcoming Events lists in the website or Steeple & Street. At the time of writing, the next one will be in October 2017.
WILTSHIRE POLICE: "Operation Engage".
Officers in the South of the county have been taking part in an operation targeting rural crime and poaching.

As part of Operation Engage, two rural operations were run, in August and early September. Over 130 vehicles were stopped as part of the operations for various issues including vehicle defects.

Operation Engage aims to tackle rural crime in the county and saw officers involved from the local Community Policing Teams, Tri-Force, the volunteer Special Constabulary, Intel and further support from neighbouring forces Dorset and Hampshire police. Click here for more on this story . . .
BEWARE THIS KIND OF "MALWARE".
Today we received an email with the subject line "Your Virgin Media Bill is ready", apparently sent from a Virgin email address: webteam@virginmediaconnections.com, and the message content certainly did look like a bill. Except that we're not Virgin customers, Virgin hadn't sent it, and the message wasn't a bill, just a "phishing" expedition designed to get internet users to click on a link in the message. Clicking would have resulted (eventually) in downloading a trojan virus (in this case the Dridex banking trojan) that would have allowed the originators to access banking details from our computer.

Internet users with Virgin accounts will be more susceptible to this particular scam than other users, but the criminals who designed it are likely to target customers of other internet providers, too, using the same style of "bait". So the usual general advice applies: if you receive an email that you weren't expecting from an organisation you haven't dealt with before, and it contains links (or has an attachment), never click on the links or download the attachment unless you are absolutely certain that it's OK. Just delete it. Same goes for an email that seems to be from an organisation you have dealt with before. If there's anything remotely suspicious about it–for example unlikely amounts, awkward language, unfamiliar format, etc–delete it. Don't click on any links or buttons unless you're absolutely sure it's genuine–just delete. And never click on anything in an email from a suspicious or unknown source "just to see what happens!".
WILTSHIRE MOBILE LIBRARY SERVICE.
Wiltshire Council's Libraries and Heritage, Communities and Communications Dept are carrying out what they describe as a "routine review" of the county's mobile library routes and have asked for comments from Parish Councils and communities on the proposed mobile library schedules for our area. They want to "engage with as many people as possible who may wish to comment on the review".

The consultation documents are available to view online from the Wiltshire Libraries webpage at http://services.wiltshire.gov.uk/MobileLibrary/, and happily Whiteparish is unaffected by the changes: it seems that the mobile library will make the same stops here, at the same times, as before. (The nearest route change to us is a proposal to drop the stop at Alderbury School, Firs Road.) The consultation period is from 4th September to 4th November 2017, and the council hope to introduce revised routes in February 2018.
RIGHTS OF WAY.
There is a need to take on the maintenance of our Rights of Way as Wiltshire Council do not have the resources to do so.
Do you like walking in our beautiful countryside?
Would you like to help improve, maintain and preserve our Rights of Way?
There will be a volunteer work party during September, most probably a Monday, and will involve clearing overgrown vegetation using hand tools along with installing a number of new kissing gates which the New Forest National Park Authority have very kindly funded. Details of the exact location will be given closer to the day. There are no particular skills required and any help will be much appreciated.
If you can spare a couple of hours, please contact the Parish Clerk, Maria Pennington, 01722 711858, maria.pennington456@btinternet.com
2017 FETE A FINANCIAL SUCCESS, TOO.
When all the pennies had been counted, this year's fete committee were very pleased to learn that the fete, hog roast and bands night had together made a profit of £8,453.08, which will be shared equally between the School and the Church. This was just a shade down on the total from the same events in 2016, but an excellent result all the same—many thanks to all those who contributed in any way. For a final report, click here. For some photos, click here.
NEW GALLERIES.
We've added three new photo galleries to the website. They cover the 2017 Fete, which took place on 17th June, the Garden Club's visit to the garden at "Aviemore", in Bartley, on the 22nd June, and the Garden Club's annual "Garden and Hobbies show, staged in the Memorial Hall on the 19th August. Many thanks, as always, to Keith Hobbs for photographing the two Garden Club events.
WHITEPARISH 100+ CLUB.
Congratulations to Mr & Mrs Holden and Diana Borwick who won the first prizes in the June and July 100+ Club draws. The full results are here.

The prize fund has been slightly reduced following the fall in membership from 228 to 213. It is not too late to re-join or join for the first time. Details of the new prizes and how to join can be found here.
MORE ABOUT BBC ANY QUESTIONS BROADCAST, 28th July 2017
To help when you're thinking of questions to ask, here are details of the panel:
Claire Perry, Minister for Climate Change and Industry, and MP for Devizes.
Barry Gardiner, Shadow International Trade Secretary.
Wera Hobhouse, Liberal Democrat MP for Bath.
Julia Hartley-Brewer, radio presenter and journalist.
GARDEN CLUB TRIP TO WELLS.
On 25th May the Garden Club visited the Bishop's Palace Gardens in Wells, Somerset, on what was evidently a beautiful spring day. Keith Hobbs took a fine collection of photos there, which you can see by clicking here.
GENERAL ELECTION RESULTS.
It's just occurred to us that having reported the Unitary Council election results back in May, for completeness we probably ought to include the Salisbury Constituency results for the June 8th General Election as well. So, even though it's not exactly new news any more, here they are! By the way, did you know that Nigel Farage once stood to be our MP? Well he did, back in 1997, when UKIP (founded in 1993) was still fairly new on the scene. (Thank you, Wikipedia . . .)

| Party | Candidate | Votes | % | ± |
| --- | --- | --- | --- | --- |
| Conservative | John Glen | 30,952 | 58.1% | +2.5% |
| Labour | Tom Corbin | 13,619 | 25.5% | +10.2% |
| Liberal Democrat | Paul Sample | 5,982 | 11.2% | +1.2% |
| UKIP | Dean Palethorpe | 1,191 | 2.2% | -9.9% |
| Green | Brig Oubridge | 1,152 | 2.2% | -3.3% |
| Independent | Arthur Uther Pendragon | 415 | 0.8% | -0.7% |
PARISH COUNCIL NEWS.
The most recent Approved Parish Council Meeting Minutes (20th April 2017 meeting) and Notes (18th May Meeting) are now available on the website. Also added were the Parish Council accounts for 2016/2017.
DON'T FORGET TO VOTE ON JUNE 8TH . . .
Just in case you hadn't noticed (as if . . .) there's a GENERAL ELECTION on Thursday 8th June. Don't forget to vote for your candidate of choice to be our next Member of Parliament. The polling station (the Memorial Centre) will as usual be open for voting between 7.00 am and 10.00 pm.
2017 WHITEPARISH FETE, AND ASSOCIATED EVENTS.
Each year, many individuals and organisations in Whiteparish work together to stage our annual Village Fete and other associated events. The Fete is definitely one of the highlights, perhaps the highlight, of Whiteparish"s year; and profits go to benefit All Saints" Church and All Saints" Primary School.

This year's Fete will be held on Saturday 17th June, and the Fete Theme is: "Victorian Times". For more details of the Fete, the Hog Roast and Bands Night held on the evening of Friday 16th, and a celebration and picnic on Sunday 18th, see our Fete Page. (But please note that some arrangements for the fete and other events are still being finalised, so detailed contents may be subject to change.)
100+PLUS CLUB.
With the recent May draw bringing the current Club year to a close (results here) it is time for those of you who don't pay by standing order to buy your tickets for next year. Details of how to do so can be found here. If you are not yet a member and would like to support the village Memorial Centre, playground, etc then full details of how to join are here.
"100+PLUS CLUB" MONTHLY DRAW.
Lucky winner of the top (£30) prize in 100+ Club's May draw was Linda Palmer. Other prizewinners are listed on the 100+ Club page: click here.
UNITARY COUNCIL ELECTION RESULTS.
The results of the May 4th 2017 election to choose a councillor to represent Alderbury and Whiteparish were as follows:
| | | | |
| --- | --- | --- | --- |
| Candidate | Party | Votes | Percent of vote |
| Britton, Richard | Conservative | 825 | 59.35% |
| Aymes, Gideon Bruce | Independent | 342 | 24.60% |
| Edrich, John Phillip | Liberal Democrat | 118 | 8.49% |
| Glennon-Alty, Kim Eleanor | Labour | 105 | 7.55% |
(Turnout: 1,394 (41.04%). Spoiled votes: 4)
RECENT MUSICAL EVENTS IN THE VILLAGE.
We've recently received accounts and some photos of two musical events from the first part of 2017. Berny Higgins was kind enough to provide a review of Richard Digance's "50 years in showbusiness" concert in February (click here), and the Whiteparish Music Festival committee kindly provided a review of their recent successful Festival events at the end of April (click here).
RECENT PARISH COUNCIL MEETINGS.
Click on the links below to see the following:
Approved Minutes for the 16th March 2017 meeting
and
Notes of the 20th April 2017 meeting.
DON'T FORGET TO VOTE ON MAY 4TH . . .
. . .for our representative on Wiltshire Council for the next four years. The polling station (the Memorial Centre) will be open for voting between 7.00 am and 10.00 pm.
"100+PLUS CLUB" MONTHLY DRAW.
The results of the April 2017 draw are now available on the 100+ Club page: click here. (Please note: re the first prize, lightning seems to have struck twice, and in two successive months. We're beyond embarrassed . . . !)
SEEN FROM OUR FOOTPATHS . . .

Richard Burr has sent a nice collection of photos (including the ones above) that he took on a recent walk. Our village has some spectacular wildflower displays at the moment which are easily found by using the village footpaths. Carpets of Bluebells, Primroses, Wood Anemones and even Early Purple Orchids can be seen along some of the paths. There are some more of Richard's photos in our Galleries section which you can see by clicking here.

All the photos were taken from Paths 10 and 35 in the village over the Easter weekend. Path 10 starts at the Parish Lantern, passes Blaxwell Farm and goes on to Park Water Road. Path 35 also runs from Park Water Road. There is a map of village paths on the website, which you can see by clicking here.
GOOD FRIDAY RECYCLING COLLECTIONS.
The fortnightly blue bin and black box recycling collections will be unaffected by the Bank Holiday on Good Friday (14th April); and will take place as for a normal Friday.
COUNCIL'S "GET INVOLVED" CAMPAIGN.
Wiltshire Council would like you to know about "a lot of changes" that they've made "to deliver the services that matter to you, in your community." To find out what they are, click here.
MUSIC FESTIVAL (22nd to 29th April).
The 2017 Whiteparish Music Festival will include four different events taking place over eight days at the end of April, featuring a "Come & Sing" day, a concert given by Whiteparish School Pupils, an instrumental concert with contributions from two local ensembles (Solent Accordians and the Courtyard Wind Quintet), and a concert of light and sacred music from Sarum Six (ex-cathedral choristers). For full details, see our Music Festival mini-site.
VOTING IN THE UNITARY ELECTION.
If you want to cast a vote in the Wiltshire Unitary Council Election on May 4th, 2017, and you're not yet registered to do so, there's still time—just! If you want to vote in person, you need to register by Thursday 13th April; for a postal vote, the deadline for receipt of new postal vote applications is Tuesday 18th April. In either case, you can register online via this page on the Wilts Council website. You can also see a list of candidates for our Alderbury and Whiteparish ward (pdf format) by clicking here.
DON'T FORGET . . .
To set your CLOCKS FORWARD on the night of Saturday 25th March (or, to be punctilious about it, at 0100 hours on Sunday morning!)
"100+PLUS CLUB" PAGE.
We're pleased to welcome the 100+ Club to the website's club and organisation pages. Each month the page will include the most recent Prize Draw winners. To see them for March 2017, click here. (Please note: there's nothing suspicious about the name of this month's winner! No inducements changed hands! Just, er, the luck of the draw and the purest coincidence . . .)
ARTISTIC CLUB THEMES THIS MONTH.

March 2017 sees two local club meetings featuring painters—albeit from different eras and in different contexts. On Wednesday 15th (2.00 pm in the Cowesfield Room) well-known wildlife painter Kim Thompson will be the featured guest of the Breakaway Club. And on Thursday 23rd starting at 7.30 pm also in the Cowesfield Room, guest speaker Jennifer Carter will be telling the Garden Club all about "Monet's Home & Garden at Giverny". If you're interested in either of these talks, we understand that both clubs welcome visitors, but there may be a small fee for tea etc.
RECENT PARISH COUNCIL MEETINGS.
Click on the following links to see the following:
Approved Minutes for the 12th January 2017 meeeting
and
Notes of the 16th February 2017 meeting.
MILITARY-STYLE ENCAMPMENT SPRINGS UP ON MEMORIAL GROUND!





In a way, despite appearances, it was the opposite of "military". We understand that the day, organised by the "Serve On" organisation, was an exercise in emergency planning, logistics, communications, etc for civil volunteers who would be called on to help in those areas, in the event of a major incident. However the tents that had appeared alongside the Memorial Centre on Saturday 25th February were government-supplied, which accounted for the military look. The "camp" was only in place for one day—by Sunday morning it had disappeared almost without trace.

Our intrepid reporter ventured onto the site after picking up the Saturday paper and was told she was the only villager to have taken much interest—up to that point, at least. (Perhaps Whiteparish folk in general are a bit short of curiosity on Saturday mornings?) Anyway, she was shown around and acted as a guinea pig for some of the procedures in use. The person in charge of the reception area was quite pleased to book in a real human, having been practicing until then by booking in lego models! We're hoping soon to include an official description of what the exercise was all about, but in the meantime there are a few photos in the galleries section.
VISIT FROM BRITAIN'S BIGGEST FINCH.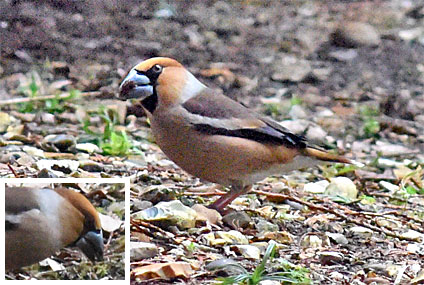 The other day we had a visit from a pair of birds that neither member of the website team had seen before: they turned out to be hawfinches, the largest member of the finch family to be found in the UK. According to the RSPB there are only something between 500 and 1000 breeding pairs here, though up to 15,000 individuals may be winter visitors, so they're quite rare—and rather shy. A very keen amateur ornithologist we know who's in his sixties has only ever seen one, and was quite envious! They are very handsome birds with rich chestnut plumage on their heads merging into a kind of pinky fawn elsewhere, and have massive, powerful, beaks that can crush seeds up to and including cherry stones.

We took a few photographs through the kitchen window. The large one above is the best of them, but because the bird was in deep shadow we lightened the image a bit–the inset photo gives a better idea of the rich brown head-plumage. Plumage can vary depending on whether the bird is male (slightly brighter) or female and whether or not it's the breeding season, but there's no mistaking that beak! If like us you live at the east end of the village down the A27, look out for this pair; perhaps they'll visit you next!
SOUTHERN WILTSHIRE: "Our Community Matters" community conference (JSA event)
(We've been asked to draw attention to the following event. Please note that if you want to attend, you need to apply; see link towards end of notice.)

On behalf of Southern Area Board, I am delighted to invite you to "Our Community Matters". This really important conference will present new information about the Southern Wiltshire community area and give everyone an opportunity to shape the way ahead for our communities.

Hear about what has changed in our community area in the last two years. The brand new Joint Strategic Assessment (JSA) will cover issues affecting our community area across health and wellbeing, community safety, the economy, transport, the environment, housing, older people, children and young people and culture. The assessment will allow us to see what has changed in our community area since 2014 so that we can decide what needs to change over the next two years.

Help shape the future of our community. This evidence presented in the JSA will help us decide how we can formulate local projects to address local challenges and we need to hear your views about priorities and how we can work together to make the Southern Wiltshire community area a better place in which to live and work and to visit.

Please come along:
Thursday 16th February 2017 at City Hall, Salisbury, SP2 7TU. Doors open at 6.30pm and the event starts at 7.00pm. Refreshments will be available. Sign up to come here. Attendance is by invitation to ensure we have a mix of people and organisations in the room to inform decisions and identify actions to tackle the issues facing the area. Our community really does matter and I do hope you will take part.

Richard Britton
Chairman, Southern Area Board
KING'S HEAD PUB.
As you probably already know if you live in the village, the King's Head is currently for sale and it is possible it could become a residential property, in which case it would be lost to the village as a pub forever. Most villagers will also know about a current initiative to try to raise funding to buy the King's Head and run it as a community pub. If by any chance you didn't get the initial flyer and questionnaire about the project, you can still get one from the village store, the school, or Courtens garden centre–the closing date for submitting completed questionnaires, by "posting" them at those same venues, has been extended (subject to permission) until the 28th January.

The steering group have organised a public meeting to be held in the Memorial Hall on Sunday 29th January at 3.00 pm, where there will be presentations about the project, including initial findings derived from the questionnaires. If you'd like to see the King's Head re-open as a pub, please come to the meeting, where you will be able to buy a glass of er, something appropriate…. In the meantime, you can find out much more about the project background and aims by visiting its website: www.savethekingshead.org.uk.
PARISH COUNCIL MINUTES.
Starting with the December 2016 Parish Council meeting, approved PC meeting minutes will be available for viewing on this website via the Parish Council page. Minutes for any previous meetings can be inspected by arrangement by contacting the Parish Council Chairman or the Parish Clerk (contact details on Parish Council page).
PARISH COUNCIL MEETING, 8th December 2016.
At their December meeting, topics covered by the Parish Council included: setting of the Parish Precept at an increase of 3.82% for 2017/2018; rights of way clearance; removal of a payphone on the A36 (according to BT this box had had no use in the past year); the council's objection to adding a footpath through Mean Wood to the definitive map, on the grounds that it is a permissive footpath rather than a public one; an invitation to villagers to meet their parish councillors and find out more about the council at the Annual Parish Meeting, scheduled for 16th March; and the fact that from now on meeeting minutes will not only be available for inspection by arrangement with the Parish Council chairman, as before, but will also be published on this website. For more information about the foregoing and some other items discussed, click here.
100+ CLUB ANNUAL SUPPER, 10th December 2016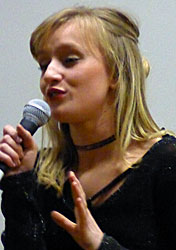 Sue King writes: "A great time was had by all at the annual supper for the 100+ Club. This event raises funds to assist the running of our Memorial Centre. The profit raised this year was just over £700.

There are a number of thank-yous required to:
Breakaway club members, who delivered invitations; made food; helped set up the hall and clear away; and sold raffle tickets.
Memorial Trust trustees, who produced the invitations and tickets; organised and ran the bar; made food; organised the draws; helped set up and clear away; ran the PA system for the evening and organised the quiz.
Maddie Cooper (right), who gave a superb singing programme enjoyed by all—she sang for her supper, which was very generous of her.
The shop staff, who sold the tickets.
Keith Hobbs, who made posters,
And last but not least, thanks to 100+ club members who also contributed some food, and to members and other residents who bought tickets.

The Breakaway club was happy to take on the challenge to organise this event – which club would like to take on the task for 2017???? Offers at the Memorial Trust AGM please!"
[Which will be at 10.00 am on Saturday the 28th January, in the Cowesfield Room.]
WASTE AND RECYCLING: CHRISTMAS & NEW YEAR COLLECTIONS.
Over the Christmas holiday period, all household waste and recycling collections bar one will be made on the normal Fridays . The only "displaced" collection is the first household waste collection after Christmas, which will be on Saturday December 31st. So December/January household waste collections will be made on December 2nd, 13th, and 31st; and on January 13th and 27th. Blue-top bin and black box recycling collections will be on December 9th and 23rd; and on January 6th and 20th. You can download a handy calendar showing collection days up to July 2017 from the Wiltshire Council website by clicking here, entering your postcode, and clicking on the "Download . . ." link towards the bottom of the page.
AREA BOARD MEETING AT ALDERBURY, 1st December 2016.
The next meeting of the South Wilts Area Board (SWAB) will be in Alderbury Village Hall on Thursday 1st December, starting at 7.00 pm—however police will be on hand from 6.30 pm to chat about any local issues you might want to raise. Items on the agenda include the Rural Crime Partnership, Community Policing, funding for youth activities, the footpath project, health and wellbeing, and grants. For the full agenda and map showing how to get to the venue, click here.
RISING STARS: A SUCCESSFUL FUNDRAISER.
Despite some horrible weather that evening, the "Rising Stars" musical show held in the church on the evening of 19th November did very well for the charitable causes supported, raising £280 for Children in Need, and for the upkeep of All Saints Church. For more about the event, and some photos, click here.
PARISH COUNCIL MEETING, 3rd November 2016.
At their November meeting, the Parish Council as usual covered a number of topics, but unusually they were nearly all connected with roads. Apparently Wiltshire Council will not be selecting the A27 for their Freight Assessment and Priority Mechanism (whatever that means–not sure if it's good or bad); and, to cut a long story short, we won't be getting a 20mph speed limit on the A27 through the village centre. However the existing 20mph limit along Common Rd is eligible as a Community Speedwatch Area. Finally on the roads theme, the meeting notes also include instructions on how to report highway issues. Other news includes the council recommending refusal of the current Brickworth Quarry planning application; and information about the Parish Steward scheme, and rights of way clearance. For more information, click here.
ANOTHER EXCELLENT FIREWORKS DISPLAY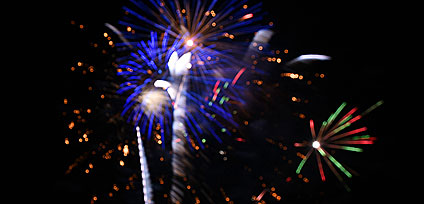 The 2016 display, kindly staged by Pains Fireworks behind the Parish Lantern on November 12th, lived up to its billing and was indeed truly spectacular. Rain had been threatened but happily it stayed dry, as on so many previous display nights, and what many thought was the best display ever was enjoyed by what could well have been the most spectators ever. Kudos to the school PTA and other helpers, too, for a well-organised and well-marshalled event, which raised over £6000 for Whiteparish School. There's more information, plus some photographs, on the PTA's Facebook page.

The above photo is the least bad of a bunch of exposures that the website photographer managed to mess up on the night, but perhaps it manages to give an impression of the display. If anyone has a reasonably sharp selection of photos taken of the 2016 display that they'd like included as a gallery on the website–because we don't–please get in touch!
DON'T FALL FOR CHRISTMAS EMAIL SCAMS.
As the festive season approaches, and most of us do at least some present shopping online, we need to be on the alert for new tricks from the ever-busy internet scammers. We received a couple of examples today. They looked at first sight like the normal "Your Amazon order has despatched . . ." notifications, except that (a) instead of the subject line including a description of what you ordered, it includes a reference number, and (b) there's an attachment (sometimes a zip file, sometimes a docm file). If you receive one of these emails, just delete it–and on no account open the attachment, which will almost certainly contain some kind of "malware". For more details of this particular variety of scam, click here.
RISING STARS
The organisers have asked us to feature this interesting-sounding event, which of course we're happy to do.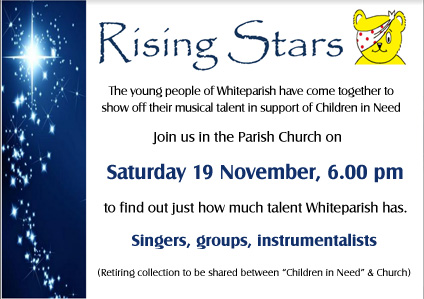 FIREWORKS SPECTACULAR: Don't forget your tickets!





The annual fireworks display will be on Saturday 12th November behind the Parish Lantern, with gates opening at 6.00 pm and the display itself–which really does live up to the "spectacular" in the title–starting at 7.00 pm. The event is organised by the Whiteparish School PTA for the benefit of the school, but kindly sponsored and staged by Pains Fireworks. You can save money by buying tickets in advance from the village shop, where they are available until noon on display day. The cost is £6.00 for each adult, £4.00 for a child, but family tickets for two adults and two children (or one adult and three children) can be had for £16.00. If you buy at the gate, each adult ticket costs £7.00, each child ticket costs £5.00; please note that no family tickets are available at the gate. Refreshments will be available, including mulled wine. The organisers ask that you please do not bring sparklers to the display.

If you are able to help and make the event run smoothly, please contact Claire Allen through the PTA Facebook page (www.facebook.com/whiteparishpta, where you can also find any late updates) or via the school office.
PARISH COUNCIL MEETING, 22nd September 2016.
Topics covered at this meeting included a visit by PC Matt Holland and PCSO Tina Roylance to brief councillors on changes in local policing responsibilities, a New Forest Draft Local Plan consultation (ends 28th November 2016), parking outside schools, possible conservation projects within the village, and the need to sign up for a free permit if you wish to take material to a household recycling centre in a van or large trailer. For more information, click here.
WILTS COUNCIL TAX REDUCTION SCHEME CONSULTATION.
Each year Wiltshire County Council reviews how much reduction in Council Tax is given to people of working age. At the moment the council are running a consultation relating to changes to their current scheme, which will apply from 1 April 2017. If you would like to take part, you can click here to find out more, and then go on to complete what they claim is a five-minute survey. Some kudos to Wilts Council, then, for having at least some form of consultation; however the survey may not have been widely publicised. We only got to hear about it because—apparently by virtue of running the website—we are members of a "Community Area Network", whatever that means. On the face of it, limiting participation in this way doesn't seem a very democratic way, and possibly not a very efficient way, of gathering a good and representative spread of opinion . . . The survey will be available at the above link until the 19th November 2016.
PARISH COUNCIL AUDIT DOCUMENTS for 2015/16
Two further documents relating to the Parish Council accounts for 2015/16 have ben added to the collection of such documents already available for inspection on the website. They are the "Notice of Conclusion of Audit" and the "External Auditor Certiicate & Report", which can be viewed on the Parish Council page by clicking here.
PARISH COUNCIL MEETING, 18th August 2016.
Topics covered at this meeting included the reintroduction of the Parish Steward Scheme, parking on Common Rd, the registration of the Parish Lantern by Wiltshire Council as an "Asset of Community Value", and overgrowing vegetation near footpaths and pavements. For more information, click here.
MORE ON THE GARDEN & HOBBIES SHOW
The Garden Club page now includes a list of cup winners and a report of chairwoman Karon Dyson's speech at the Garden & Hobbies Show on the 20th August. Following surprisingly promptly after the event itself, there is now also a set of photos of the show in the website's galleries section. (Thanks as ever to Keith Hobbs for providing them.) Keith wrote: "It was an excellent show . . . the flowers and veg were surprisingly good particularly when considering the weather we had in recent months – cold followed by heat and then torrential rain. The prizes were presented by Colin Iles, the recently retired chairman of the club."

We understand that there were as many as 370 entries across all classes—the highest figure since 2004—and it certainly felt busier at the show that afternoon in the Memorial Hall than in some recent years. To go to the Garden Club page, click here. To see the photo gallery of the show, click here.
WHITEPARISH GARDEN & HOBBIES SHOW, 2016
The 2016 Garden and Hobbies Show will be on Saturday 20th August 2016, opening at 2.30 pm. All villagers, their families, and friends are invited to enter the show, which is run by the Garden Club for the benefit of the village, and to keep the tradition alive. (First records give a date of 1896 as the first show.)
The club would really like to see a greater number of entries in all categories but particularly from children, who can win cash prizes! Please take the time to look at the Schedule and see what you could enter this year.
The Schedule can be found in the August Issue of Steeple & Street magazine. However, if you don't have acccess to a copy, you can download a reproduction of the schedule by clicking here.
WEBSITE TEAM HANGS HEAD IN SHAME
Apologies to anyone who tried to find the list of forthcoming events for August 2016 (under the heading of News and Events) in the last couple of weeks. We did update the page, but, er, forgot to upload it to the server. We'll try not to do it again . . .
NEW PHOTO GALLERY: Garden Club Barbecue
The latest photo gallery in the website's growing collection has a few shots taken at this year's Garden Club summer barbecue, kindly provided by Ilona Hocking. To see them, click here.
MEMORIAL TRUST NEWS
The 14th July Meeting of the Memorial Trust seems to have covered some interesting topics, including the way the trust itself operates. To streamline their activities, it was proposed that individual working groups be formed within the trust which would have responsibility for (a) the grounds (basically all outside areas), (b) car parking, (c) Memorial Centre management, (d) Fundraising events, and (e) the 100+ Club. Just a few of the other topics covered included booking and payment for use of the MUGA, proposed charges for pitch hire in 2016/2017, and ways of marketing the Memorial Hall more effectively as a venue for weddings etc. To read the minutes in full, click here.
AREA BOARD MEETING IN WHITEPARISH, 28th JULY
The Southern Wiltshire Area Board (SWAB), which holds meetings roughly at two-monthly intervals at various locations around the bottom half of the county, will be holding one in Whiteparish's Memorial Hall on Thursday 28th July, at 7.00 pm. Members of the public are welcome to attend, and you can read the agenda by clicking here.

Many of us will remamber the old Salisbury District Council (SDC), which was abolished in 2009. For all its faults, the SDC did offer a certain level of local democracy which was completely swept away with the SDC's demise. As compensation, we got the area boards (though to be fair they were never represented as being exact replacements for the previous council). But this fairly rare visit to Whiteparish gives us an opportunity to learn more about SWAB, what it gets up to, and what it can offer us.
PARISH COUNCIL NEWS
At their meeting on 7th July 2016, parish councillors expressed their thanks to residents for keeping the village smart, which had resulted in Whiteparish being judged second Best-Kept village in South Wilts this year. The council agreed to pay for souvenir bookmarks which were given to primary school children to mark the Queen's 90th Birthday, and also agreed that rugby posts could be installed on the Memorial Ground. Other topics covered included action for Romsey Rd potholes, and the procedure for reporting highway issues. For more detail, click here for the meeting notes.
ALL SAINTS CHOIR TO SING AT SALISBURY CATHEDRAL
On Thursday, 28th July, Whiteparish All Saints Church choir will return to Salisbury Cathedral to sing evensong. The service is at 5.30pm and lasts about 40 minutes. As before, in March, the choir has answered something of an SOS from the cathedral administrators, who have again been let down by the late cancellation of a week-long visit from a visiting choir; their own choir by then being on holiday.
The music to be sung during the service will be as follows:
Responses by Ayleward
Psalm 138
Magnificat & Nunc Dimittis to a setting for three voices in G by Charles Wood
The anthem "Awake, put on thy strength" by Michael Wise (the one-time Salisbury Cathedral organist who died in 1687, in the cathedral close, after being hit over the head by the bill-hook of a night-watchman who got into a quarrel with him!).
2016 FETE PHOTOGRAPHS
We've added a new photo gallery for the annual Whiteparish Village Fete which was held on the 18th June this year. As in previous years, we couldn"t cover all the stalls and/or activities on the field, but hopefully the photos will convey a flavour of what was going on. This year we've included captions; if we got any facts wrong (especially about the vehicles or agricultural machinery), please let us know and we'll correct them. The 2016 Fete gallery can be seen by clicking here. To see a menu of all galleries, click here. More about the fete to follow soon.
QUARRY EXTENSION EXHIBITION
On the 20th July, between 3.00pm and 7.30pm, Raymond Brown Aggregates (RBA) are mounting a planning exhibition in the Memorial Hall about extensions to the Brickworth Sand Quarry. For some minimal information on a flyer about the event, click here. For further information or questions about the event, RBA invite phone calls on 023 8027 3750.
RESPONDERS MEET AT WEST LAVINGTON




The Community First Responder (CFR) group in Whiteparish remains active and privileged in providing cover for the village and supporting local groups with First Aid training, awareness sessions and cover at local events. The group meets monthly to refresh training and if any user groups would like us to attend any of their meetings please get in touch. As well as the regular training the group also attends an annual Study Day when CFRs from across Wiltshire come together. This year's Study Day took place in June in West Lavington which saw 60 Wiltshire CFRs hear from the Stroke society, Dementia charity and speakers from the Ambulance service. The highlight of the day was seeing the Wiltshire Air Ambulance land and the advanced paramedic crew join the meeting to highlight the valuable resource that this and the five other air ambulances across the South West provide to communities such as ours. The Wiltshire Air Ambulance is funded entirely donations and more information is on their website. For more photos of the day, click here.
Jackie Hawker (884 127)
BREAKAWAY CLUB'S ROYAL BIRTHDAY TEA PARTY
Galleries of Queen's Birthday-related and Fete-week-related photos seem to be flooding in at the moment. There's one from the Village Picnic held on Sunday 12th June in preparation, and meanwhile we've received a load of nice photos from Keith Hobbs taken at the Breakaway Club's celebration Tea Party held in the Memorial Hall on Wednesday 15th June. To view them, featuring as fine a collection of titfers and fascinators (see any good dictionary) as you're ever likely to find in one room on a Wednesday in Whiteparish, click here!
SCARECROW COMPETITION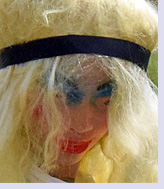 If you'd like to take part in the scarecrow-judging competition—and Sultry Suzy Scarecrow, left, thinks you definitely should—but you're wondering how on earth you'll find the time to check out all the entries round the village and choose a favourite before the closing date (Friday 12th), the website can help! We have a new photo gallery showing all the scarecrows that had been entered in the competition by last week, with a few extra ones. So if you've not handed in your choice of best scarecrow at the shop yet, you can still view all the entries without having to leave your armchair. And in case you haven't collected your entry form from the shop, there's still time. You can view the scarecrow photos by clicking here. (And if you need to check how the competition works, click here to see the competition poster.) Good Luck !
GARDEN CLUB'S OUTING TO ARUNDEL, 26th May.
To judge by Keith Hobbs' photos of this outing, Garden Club members picked a perfect day for their trip! Keith's photos are in a new gallery on the website, which you can see by clicking here.
QUEEN'S 90th BIRTHDAY CELEBRATION PICNIC, 12th June.
By all accounts the picnic was a great success, and the many villagers who enjoyed it hardly got wet at all ! Some photos to follow soon.
PARISH COUNCIL NEWS.
At the Parish Council's 25th May meeting, existing councillors welcomed Mrs Julie Bell as a new co-opted member, with responsibilities for school liaison and planning; Trevor King and Mike Hayday were re-elected to their roles as Chair and Vice-Chair, respectively, and other councillors were assigned various roles. Other topics covered included approval of the past financial year's accounts and the re-intoduction of the Parish Steward Scheme regarding maintenance work. We are also reminded that if you want to have the council discuss any particular topic, the Parish Clerk must receive your request to have the topic put on the meeting agenda at least seven days before the meeting.

For the full meeting notes, click here. To go to the Parish Council page, where you can find the current list of councillors and their responsibilities, links to the accounts mentioned above, and links to parish council notes going back over the last 11 years (and counting), click here.
MAY 26 AREA BOARD MEETING AT DOWNTON
The next meeting of the South Wilts Area Board will be held at the Trafalgar School, Downton, starting at the slightly earlier time of 6.45 pm on Thursday 26th May. Apparently there will be a "Busy agenda with a focus on our Area Board themes (older people, footpaths and conservation) and 13 grants to be determined." To see the full agenda, which includes links to further detail about work on these themes, including the grant submissions, click here. It looks as if there may still be some money in the 2016/7 kitty for further grants, even if all the grant applications currently being considered are approved. So if any Whiteparish organisations need funding during the current financial year for specific projects, it may be worth looking up the rules for submitting grant applications. The agenda has a link under item 13 that can take you to this information.
PARISH COUNCIL NEWS.
Topics covered at the Parish Council's 21st April meeting included a mooted footpath by the village shop, a change of volunteer co-ordinator for the South Wiltshire Paths Group (and a call for volunteers to do footpath maintenance); and news of a current vacancy for a parish councillor. For more information about these and other items covered, click here.
MORE ON THE THREAT(?) TO LOCAL BUS SERVICES.
Why the question mark? Because the May 12, 2016 edition () of the Salisbury Journal carries the front page headline "Council denies plan to cut buses", and reports Councillor Philip Whitehead, Wiltshire Council cabinet member for transport, maintaining that "The scenarios depicted in [the recent] consultation were not proposed cuts. They were there to seek impact assessments".

The Journal went on to report Councillor Whitephead as saying that Wiltshire Council is "probably the only authority in the UK this year which is not making cuts to the buses and there are no plans to cut the buses." But as the Journal points out, he made no mention of plans after the election in May next year. The Journal had quite a lot on this story—very important, to pensioners, in rural areas of the county—some of which is at this link.
LOCAL CRIME.
According to the two most recent crime reports forwarded by PC Clissold, the overall trend in March and April was down. In March, six of the 13 local communities covered had no crimes in the categories that find their way into these reports, with Whiteparish suffering more than our fair share with three: an illegal immigrant found and arrested, and thefts of a pair of ferrets and a bird scarer. (Autobiographical aside: At least one half of the website staff isn't very keen on ferrets, since the day when he left our back door ajar and one of these wee beasties from a nearby farm trit-trotted across the kitchen and, unprovoked, sank its fangs into his big toe . . . )

In April, Whiteparish just had one incident recorded, a theft; but Winterslow suffered 11 instances of windows smashed—ten of them on a single day and all of those inflicted by golf balls! As the report says: "You may well have seen the Community message and the press release in relation to the number of damages that occurred overnight in the village of Winterslow. These incidents are still under investigation by the neighbourhood policing team." For more details, click here for the report of March crimes; click here for April.
BANYANERS' SWANSONG?
Currently on sale in the village shop are the few remaining copies of what Whiteparish's "Banyan Club" maintain is the final edition of Roof and Alley. Physically, this fine publication looks very like a local village magazine with a similar title, but that's where any resemblance ends! You could say it's a final distillation of the wit and wisdom of this eminent group of beer samplers, sages, philosophers, and put-the-world-to-rightsers. The club's origins are lost in the mists of time but rumoured to have been in the Fountain Inn (rip) in a previous century. But let's hope that even though Whiteparish is now down to one pub (hopefully only temporarily), some of the Banyaners are still managing to make it up the hill to the Parish Lantern to keep the club spirit alive.
Roof and Alley contains a typical Banyaner mix of musings, poems, jokes, reminiscences, and impenetrable references to people you've probably never heard of! It costs just £2.00, and all profits go to Naomi House.
MEMORIAL TRUST NEWS.
If you're interested in what the Whiteparish Memorial Charitable Trust get up to, the minutes of their 14th April meeting give a pretty good impression of the breadth of their responsibilities, covering everything from mole control to the "gravity bowl bearing" (whatever that is) in the MUGA needing attention, and a host of other matters. You can see the minutes by clicking here.

The Trust's next meeting will be in the Cowesfield Room at 8:00 pm on the 26th May. Members of the public welcome.
PLEASE HELP KEEP WHITEPARISH TIDY.
Whiteparish has again been entered into the annually run Best Kept Village Competition, organised by the Wiltshire branch of the CPRE (Campaign to Protect Rural England). Judging will take place in early summer, but we don't yet know exactly when (and perhaps it will be a secret until the day of the inspection?).

According to the CPRE Wiltshire website, "Judging is based on a written submission and a site visit focuses primarily on communal buildings and public areas such as village greens, footpaths, car parks, noticeboards, bus shelters etc. The judges will be looking for evidence of a vibrant village which puts time and effort into its Clubs and Organisations and keeps litter and general untidiness to a minimum." So please help by keeping the village tidy, and pick up any litter you can. Last year Whiteparish came third in the Large Villages category. Let's try to do even better in 2016!
COUNCIL WARNING ABOUT FAKE TREE SURGEONS.
Wiltshire Council Trading Standards team have issued a warning about fake tree surgeons who are reportedly scamming county residents. Householders should be on their guard against cold calling by rogue traders who claim they have spotted diseqsed trees which need felling. The standards team say that in the cases investigated, there was no evidence that the trees in question were diseased. For more information, click here
2016 FETE NEWS.
Preparations for this year's Fete and associated events seem to be coming together pretty well, with many stalls, entertainments, and other attractions already "signed up". At the end-March meeting of the committee, we learned that £850-worth of sponsorship had already been promised–a really good start. If you are interested in being a sponsor, or in having space at the fete to showcase your products or services, please contact Sue Welling on 01794 885765. All profits from the Fete, Bands Night, and other events go to help All Saints School and All Saints Church.

There is some as-yet fairly skimpy information about these events on the website's Fete Page, which we will add to over the next few weeks as arrangements are confirmed.
CHURCH SERVICES CALENDAR.
Just to let you know that as from early April the services calendar on the website's All Saints Church page has been restored to health and is working again. Not because of anything we did, but presumably the hosting company changed a setting somewhere in the web server, and bingo! (Strange, because they'd said they couldn't do anything about the fault. Guess we'll just have to keep our fingers crossed.)
YET ANOTHER EMAIL SCAM ALERT.
We received a new variation on the email phishing scam today; it's simple but because of its apparent authenticity it just might fool the unwary. What's different about this one is that everything about it looks as if it could be kosher. The salutation gives a correct name (yours), with correct middle initial; your home address, quoted in the middle of the email, is spot on. The company name, on whose behalf the sender claims to be acting, is that of a genuine UK company (but presumably picked at random by the naughty software that put the email together). To see the format of the email, with personal info redacted, click here
UPDATE: If you get an email like this, or a variation, don't be fooled, and whatever you do don't click on the link in the middle of the email! Doing so will link to a "ransomware" program called Maktub, which can encrypt your files and demand a ransom for decrypting them. According to the story featured on the BBC website today (8th April 2016), "It's incredibly fast and by the time the warning message had appeared on the screen it had already encrypted everything of value on the hard drive - it happens in seconds," Mr Brandt told the BBC.
This is a nasty one. The usual rules apply: if an email arrives from a source you don't recognise, and especially if it includes a link, be deeply suspicious and don't click the link—the email's probably a scam.
HISTORY GROUP AGM (plus "historical recipes"!)
The Annual General Meeting of the Whiteparish History and Environmental Association (to use its full name) will take place in the Memorial Centre's Cowesfield Room on Thursday 28 April 2016, starting at 7.30 pm.
Proceedings will include proposals for committee members for 2016—17. All current committee members are prepared to continue but new volunteers would be most welcome to ensure that we continue to provide an interesting programme.
The speaker at the AGM will be Sue Jones, exploring some "Historical Recipes" including Wiltshire Buttermilk Cake and Devizes Cheesecakes. There will be demonstrations and, we are assured, tastings. Members free and guests £3.00.
Membership for 2016-17 will be £12.50 per person. For any further information, please contact David Pantling on 884537.
BREAKAWAYS HEAR ALL ABOUT THE BADGES
At their meeting on 16th March, the Breakaway Club's speaker was Tony Phillips, who gave what sounds like a very interesting talk about the regimental badges cut into the chalk hillside at Fovant. For a summary of Tony's talk, and/or more about the club, click here.
ANNUAL PARISH AND PARISH COUNCIL MEETINGS The 14th of March 2016 saw the 2016 Annual Parish Meeting and a regular Parich Council meeting held back-to-back in the Cowesfield Room of the Memorial Centre. During the well-attended Annual Parish Meeting, with 21 members of the public present, plus County Councillor Richard Britton, the main topics of discussion were parking and traffic hazards in The Street, and possible celebrations of the Queens 90th birthday in June. For a fairly full account of the points raised, click here.
During the regular Parish Council meeting that followed, the main topics discussed were thanks to Councillor Colin Bray who was retiring after 17 years service on the Council, the Queen's birthday again, and a proposal to ask for John Glen MP's support for a 20mph speed limit along The Street. For the meeting notes, click here.
LOCAL CRIME FOR FEBRUARY 2016
It seems that the latest monthly crime report (for February) present a deceptively quiet picture! As PC Clissold writes in the accompanying email: "Apologies for the lateness, but better late than never. A large number of missing persons and domestic reports mean that the actual crime bulletin looks a little thinner than normal." To see the report for Whiteparish and 12 other nearby communities, click here.
CHURCH SERVICES CALENDAR
Apologies if you have tried to go to the All Saints Church page recently to check the forthcoming services and times, only to see an error message where the calendar feature used to be. The server company who host the website tell us that they have stopped supporting the kind of database that the calendar feature looks up (thanks, guys . . . ). We should have the feature working again soon. Meanwhile, the services are of course listed in Steeple & Street, or you can also find them on the Clarendon (Clergy) Team's website by clicking here and selecting the appropriate tab at the bottom of the page.
HOPE FOR THE KING'S HEAD?


Whiteparishioners living near the village centre will probably know about this already, but others may not, so . . .

A notice recently appeared in one of the King's Head's windows, dated 29th February 2016, from Kingshead Whiteparish (LLP), of 3 Hopgardens. It sets out possible ways forward for the KH, and will be of interest to anyone who'd like to se the old place open and serving the village again—especially now that the Fountain has closed. The notice is a bit big to put on the the home page in its entirety, but you can view the content by clicking here. Keep your fingers crossed . . .
MEMORIAL TRUST MARCH MTG: CHANGE OF DATE.
Please note that the date for the the Memorial Trust Management Committee's March meeting, previously published as being Tuesday 8th March 2016, has been changed to Thursday 10th March, at 7.30 pm in the Cowesfield Room.
PARISH COUNCIL MEETING, 11th FEBRUARY
Amongst the topics covered during the most recent Parish Council meeting were: the latest planning application in relation to Brickworth Quarry; a Wilts Council Highways engineers report about The Street; the March road closures in Dean Lane and Moor Lane; the County Council's Bus Service Consultation; input from PC Clissold about inconsiderate parking; and the need for more volunteers to help with footpath clearing and "kissing gates". For more about these, click here to see the meeting notes.
RURAL WILTS BUSES CAMPAIGN.
It's good to see that the Salisbury Journal has taken up the cudgels on behalf of rural areas like ours that may lose their bus services or suffer serious cuts to them after the County Council's current "Consultation" on the subject (see earlier story). The 11th February issue introduced the subject with a powerful front page story and editorial under the "Journal Comment" heading. The 18th February issue followed up with news stories on pages 4 and 5, some lively and trenchant comments (all negative) on the Letters pages (p 28). One correspondent made a particularly interesting point: that people taking part in the consultation should read the questions very carefully. She wrote "Beware of the consultation questionnaire. The multiple choice answers are skewed in order to give an answer Wiltshire Council wants to hear rather than what your need for a bus service is." That's only one person's take, but it doesn't sound like bad advice! The same Journal issue also announced the launch of an online petition. (Please note that the petition is not the same as the Council's Consultation exercise!) If you want to go straight to the petition, click here.
There is a link to the County Council's Consultation survey in our earlier story, down the page.
LOCAL CRIME IN JANUARY.
According to the most recent local crime bulletin, the first month of 2016 was another relatively quiet month in our immediate area. Only 8 of the 13 villages and communities that are covered reported any crimes (in the qualifying categories). Whiteparish wasn't one of them, though, with two burglaries. For more details, click here.
MEMORIAL TRUST AGM.
The Whiteparish Memorial Charitable Trust (to give its full name) held its AGM on 23 January, 2016; with 16 members of the public present. This meeting was important not just because it was the AGM of the body responsible for the Memorial Ground and Memorial Centre, but also because two long-serving trustees (Geoff Mortimer and chairman Sid Roberts) were retiring. You can read the meeting report by clicking here, but we thought it would nice to include the brief summary of outgoing chairman Sid Roberts' final report here as well:

"The Chairman delivered the final report of his term . He recounted his 36 year involvement in the old Memorial Hall Trust and the current trust. He spoke of the long and expensive process of combining the two Trusts and the crucial role played by Shelia Campbell and the Parish Council.

He told of the process of raising funds and the thanks due to Shelia Campbell and Linda Palmer in dealing the paperwork required. He gave the example of the £50,000 sourced from the Football Foundation where the returned forms weighed 3½ kg.

The Centre has now been open for 2 years and is at present generating sufficient funds to cover the basic running costs. The building has more daytime capacity than is currently booked, but that is an issue faced by all village halls. The Trustees have been able to keep the fees at a low level, to the benefit of user groups. But they need more support from regular users, both in the way the hall is used and in providing feedback and suggesting solutions. He asked all regular user village organisations to send a representative along to Trust meetings which are held every 6 weeks or so.

He ended by giving thanks to all the Trustees he has worked with, in particular Geoff Mortimer, who is also retiring at this time, and gave particular thanks to Mr and Mrs Twine, without whom it would be impossible to run the hall."
PARISH COUNCIL NEWS.
At their meeting on 12th January, 2016, the Parish Council heard about, or discussed: The Parish Precept, a safety survey of The Street, an application to de-register some common land, a county-council survey regarding subsidised bus services, and plans to clean up the village in preparation for the Queen's 90th Birthday celebrations this coming spring. There are also to be some road closures in March affecting Dean Lane and Moor Lane. For more details, click here.
WILTSHIRE BUS SERVICES CONSULTATION. The Passenger Transport Unit of Wiltshire Council are currently conducting a survey of attitudes to subsidised bus services, and the "consultation period" ends on the 4th April (2016) at 4.00 pm. Although they claim that no decisions have been made, there is a clear intention for at least some services that are currently the subject of a local-government subsidy to suffer a reduction or removal of the subsidy, with the inevitable consequence of a reduction or removal of some services, and possibly of some routes.

The Transport Unit are asking for input whether you are a bus user or not, so if you are concerned about the future of bus services in the county, and in particular in our rural area, please complete the survey. Introductory information is at this web address; while the survey itself can be found by clicking here. Without wishing to be controversial, one imagines that some of our esteemed leaders in County HQ might find it quite difficult to imagine themselves as OAPs, with no transport of their own, living out in the rural areas that make up the vast majority of the county, and facing the prospect of their one lifeline being chopped. So the survey is an opportunity to give Trowbridge a hint.
LOCAL CRIME IN DECEMBER.
To judge from the most recent local crime bulletin, December 2015 was a relatively quiet month in our immediate area. Across all of the 13 villages and communities that are covered, a total of only 16 crimes (in the qualifying categories) were reported. Seven of these were criminal damage to vehicles. Whiteparish almost made it right through the month with "no reported incidents", but what would otherwise have been a clean sheet was spoiled by a single burglary on New Year's Eve . . . For more details, click here.
ageUK NEED VOLUNTEERS.
The Salisbury branch of ageUK are again looking for voluntary advisers and helpers in our area. For more information, see their poster by click here.
100+ CLUB CHRISTMAS PARTY, 2015
The Annual Christmas Party of the 100+ Club was held in the Memorial Centre on Saturday 12th December and was the usual happy mix of good food, wine and beer, friendly people, and Ian's wide ranging and brainteasing quizzes. This year, we enjoyed a delightful extra—entertainment by local artist Ed Hailwood, who kept feet and fingers tapping with his renderings of songs by Frank Sinatra and Dean Martin. Ed performed before and during supper, and then, after our meal, we were encouraged to sing along to some old favourites. After this, there were the eagerly awaited monthly and Big Christmas draws for 100+ Club members (click here for results), plus the raffle and the results of Ian's brainteasers. Thanks are due to all who contributed, including Ed Hailwood, all who provided delicious food, raffle prizes, and who helped with the setting up and clearing up.

The event raised £436 towards the operating costs of the Memorial Centre.
Gill Bray
For a mini-gallery of some random snaps taken at the party, click here.
MORE ON SGT. WHITTLE.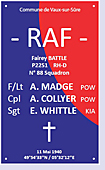 If you're a close follower of the website (well, we can but hope!), you may recall a recent article here about Sergeant "Lofty" Whittle, RAF, who was killed in action over Belgium in a Fairey Battle aircraft in 1940, and who is featured in Whiteparish's Memorial Book .
M. Pierre Michiels, a member of a historical research team operating in the area where Sgt Whittle's plane crashed, has sent a photo of the plaque (see left) which his team plan to install near the crash site in the village of Bercheux, as a tribute. He writes: "The plaque has just been delivered and our intention is to proceed to its unveilling on next May 2016. It will be placed in the little garden at the entrance of the Primary School of Bercheux because it is a very symbolic place and because the aircraft bellylanded 300 yards behind the school. As you know, out of the 3 crew members, Lofty was the only one to die that day near the village of Bercheux. So we wish to contact any of his relatives to invite them to attend the creremonies."
So, to repeat our earlier request, if anyone knows of any relatives of either Sgt Whittle or of his late widow, the former Phyllis Burden of Yew Tree Farm, please get in touch and we can give you M. Michiels' contact details.
PARISH COUNCIL MEETING, 3rd December 2015.
In their last meeting of 2015, Whiteparish Parish Councillors were pleased to receive (on behalf of the village) certificates and a cheque for £60 won by Whiteparish in 2015's Best Kept Village competition from Dr Peter Claydon, who was represnting the Campaign to Protect Rural England (CPRE). There were also twelve planning applications to consider. Residents are reminded that they are welcome to attend Parish Council meetings, where there is time set aside at the beginning of each meeting for members of the public to raise any village matter, including planning applications. Councillors also heard the results of the recent Metro Count traffic survey. Wilts Council have completed the survey as it relates to speeding, but are still analysing the data about types of vehicles using The Street. For more information about these topics in the meeting notes, click here.
NEW FACEBOOK PAGE FOR WHITEPARISH MUSIC AND MUSICIANS.
Eddy Hailwood has asked us to mention that he has started a new Facebook page "Whiteparish Music". As Eddy says in his introductory text there:"Hi all music lovers in the Whiteparish area. My name is Ed Hailwood and I am responsible for organising the music for the June 18th 2016 Whiteparish Fete. I also wish to get things going musically in the village. Please contact me if you wish to be involved. You can be anyone from a Pro to a person with no previous experience. This is for music of all genres. Anything from Classical to Rock. Are you a singer, guitarist pianist--whatever your musical interest I want to hear from you."
And you can message Eddy from that same Facebook page. It'll be interesting to see how this initiative develops.
LEARN ABOUT BECOMING A "DEMENTIA FRIEND".
The South Wilts Area Board (SWAB) have asked us to publicise a special event focusing on dementia that they are hosting in Alderbury Village Hall on 26 January 2016. The introduction to their press release reads:

"Southern Wiltshire has the second highest rates of recorded dementia in Wiltshire and as a result of this the Area Board has made it its theme for 2015/16. The aim of the event is to bring like-minded people together to look at practical ways communities can support people with dementia. One way you can help is to become a Dementia Friend. Dementia Friends is about learning more about dementia and the small ways you can help. From telling friends about the Dementia Friends programme to visiting someone you know living with dementia, every action counts. To become a Dementia Friend all you need to do is attend a 1 hour information session."
And the release goes on to ask: why not make it your New Year's Resolution to book a place on one of the Alderbury sessions? To learn more about the event, click here.
A VILLAGE SHOP CLOSES . . . (NO, NOT THAT ONE!).
Whiteparish residents living geographically closer to Sherfield English than to Whiteparish (and there are quite a few of us) will probably know by now (but some others may not) that the Sherfield village store closed down very recently (though the sub-post office on the same premises is still currently operating). It was nice to have a village shop within walking distance, even if it wasn't in "our" village. But presumably the closure–though a very sad loss for Sherfield–may help ease the situation for the Whiteparish Village Store that we reported on a few weeks ago.
CRIME REPORTS FOR NOVEMBER.
The November 2015 summary of crime reports from PC Henry Clissold shows a mixed month for our area, with seven of the 13 communities covered showing "No reported incidents", but four or five incidents in most of the remaining villages. Whiteparish had five: two for drugs offences, two for criminal damage involving vehicles, and one a theft of dogs from secure kennels. (The grapevine says there have been a rash of attempted dog thefts in the area over recent weeks.) For more details of the crimes summarised, click here.
NEW MINI-WEBSITE ABOUT MEMORIAL CENTRE.
The Memorial Centre now has its own "website within a website", with a home page plus further pages about: what's inside the centre (with a plan, photos, and a panorama of the main hall); how to hire a room or the hall; a list of activities; a map to help people find the centre (mostly for non-residents); and some of the history of the project. We hope all this will be interesting and useful, and it's now been available on the website for a few weeks, accessible from the main menu under Amenities -> Memorial Centre or by clicking here. Something that's new as of now (early December 2015), is the ability to view an online calendar of existing bookings (accessible via the Hiring page), which should be particularly useful when you're planning a meeting or function and want to know what dates/times are free. It's not an online booking system as such, because the master booking record is still held on paper, but the online calendar will usually reflect the current bookings recorded on the paper system.

The Memorial Centre mini-site replaces a lot of information that was previously scattered around the rest of the website in a not-very-organised way, much of which was out of date. This is part of the first stage of a much larger effort to clean up, reorganize, redesign, and generally modernise the whole Community Website; which will continue well into 2016, and possibly beyond.
SGT EDWARD "LOFTY" WHITTLE (RAF).
We recently received the following email enquiry from M. Pierre Michiels, of Neufchateau, southern Belgium:
" . . . I'm a member of a local historical research team. We wish to pay tribute to the sacrifice of the forgotten ones, the RAF airmen that died in the first days of WW2, trying to slow down the rush of german panzers through the Ardennes on their way to Sedan and Dunkirk. We are focusing on Fairey Battle light bomber crews that have died from May 10th to May 12th, 1940 in the region of "Central Ardennes" (from the German border up to the French city of Sedan).

All 5 crash sites have been definitely identified thanks to photographic documents, local witnesses reports and metal detector investigations. Last May, the first ceremonies were led in the region of the City of Bouillon as remembrance services and plaques unveillings were organised. 300 people attended with relatives, RAF representatives and local Authorities. local TV broadcast was made.

We are now focusing on Sgt E.J.M. Whittle's aircraft, that crashed 20 miles more in the north, near the village of Bercheux. After so many years, Villagers still take care of his grave. We wish to pay tribute to his bravery by unveilling a similar plaque at the crashsite. We are searching [for] ANY information on Sgt Whittle and his relatives that would wish to attend a future ceremony. Would you be so kind as to help us?"

We sent M Michiels the text of a page in the Whiteparish Memorial Book (which commemorates all Whiteparish residents who died fighting in the two world wars) that deals with Sgt Whittle (to see the text, click here). Although born and bred in Lambeth, Edward "Lofty" Whittle joined the RAF and while stationed at Boscombe Down he was married in All Saints Church to Phyllis Burden of Yew Tree Farm in Parkwater Road, Whiteparish and presumably they then lived in Whiteparish together. If you know, or know of, any relatives of either Sgt Whittle or his widow (who died in 1987), or can help M. Michiels with any other information, please let us know (enquiries@whiteparish.co.uk), and we will forward any news to him.
CHRISTMAS/NEW YEAR WASTE & RECYCLING COLLECTIONS.
Rescheduled end-of-year collections will be as follows:
Blue-top Bin Recycling (plastic bottles, card, etc) and Black Box Recycling: Monday 28th December 2015, and Saturday 9th January 2016.
Black Bin (Household Waste): Monday 4th January 2016.
After the above dates, collections revert to alternate Fridays, as before.
SEASON'S GREETINGS!—AND YET ANOTHER SCAM WARNING . . .
Now that we're all ordering more things online than ever before, the Christmas season gives the internet's bad guys even more opportunities to defraud us. Suppose you're expecting delivery of a Christmas package you bought on the web, and you have to unexpectedly leave the house during the delivery slot. Later that day an email headed "UKMail 988271023 tracking information" (or similar) tells you a package could not be delivered because no-one was home, and includes an attachment which (the email claims) gives details of how and where you can retrieve the package. You might naturally associate the missed delivery with the email, and open the attached MS Word document.
DON'T ! It's probably a scam. Opening the attachment will run a macro (little program) that will install malware on your computer. Only open an attachment if you are expecting one, and if you absolutely trust the sender.
Yesterday we received an email exactly like the one described above. How did we know it was a scam (after all, there IS a company called UK Mail)? Three main reasons: (a) we weren't expecting a package—though we could have been; (b) there are several email addresses associated with the Whiteparish website, and identically the same email was sent to each of them; and (c) we've learned to be suspicious of everything that arrives in our inboxes. These days you just have to be, and even more so at this season, alas. There will be many more scams out there, on the same lines as the one just described.
POLICE NEWS
The latest local crime reports bulletin (for October 2015) from PC Henry Clissold shows a quiet month overall for the local communities featured, with six villages showing "No reported incidents". However, unfortunately Whiteparish was not among them, and our village actually had more crimes listed than any other, with three cases of criminal damage, plus a theft of timber and a burglary. (For more details, click here.)
PC Clissold also wrote "As some of you may be aware Guy has moved stations, he is still working for Wiltshire Police but at a station nearer to his home, this means that a replacement is now with us. PCSO Tina Roylance has finished her training and is now based at Alderbury police station with the team. I am sure you will make her feel welcome as she gets to know the area."
WHITEPARISH PUBS: AN ENDANGERED SPECIES?
30 years ago there were four of them. From east to west, we had the Parish Lantern (formerly the New Inn), the White Hart, the King's Head, and the Fountain Inn. Don't know if that was the most that Whiteparish ever had, but back in 1985 the village we'd just moved to definitely didn't seem short of watering holes! In fact, though it may seem like sacrilege to say so, four was probably too many.
Anyway, that was sorted out after a few years when the White Hart was sold for housing. Three seemed a good number, perhaps the "Goldilocks number", and things stayed that way until very recently, when the dear old Kings Head closed its doors as a pub for perhaps the last time, in the spring of 2014. Down to two—not really enough, one thought, though plenty of larger villages seem to manage with just one pub nowadays, or even (perish the thought) none.
Where's all this going? Well, we're not sure. But very recently the sale seems finally to have gone through of one of the two remaining working pubs (the one with an "F" in its name). We live in uncertain times, folks. And that's not always a good thing . . .
VILLAGE SHOP & POST OFFICE: SURVEY.
A slightly worrying report in the November 2015 edition of Steeple & Street reveals that there has been a recent slow decline in the monthly turnover of our much-valued Village Store, to the point where it has just started making a loss. The management team warns that "If this decline accelerates, the continuation of the shop cannot be guaranteed." However, they are taking steps to halt the decline and hope that these will make a difference.
They are very interested in learning what people want from the store, and what would make them want to use the shop more regularly. To this end there is a questionnaire online which you can access by clicking here. Please help the team by completing it, either online or in paper form (which will be circulated shortly). As the report says: "Remember: USE IT OR LOSE IT!".
PARISH COUNCIL NEWS: OCTOBER MEETING.
At the Parish Council meeting on 15th October, councillors heard that Whiteparish had done well in the 2015 Best Kept Village competition, coming 3rd in our category in the County Round. To quote from the meeting notes: "Judges enjoyed the scarecrows set out all around the village during the District Round and the churchyard was most beautifully kept. They thought we were fortunate to have such a magnificent Memorial Centre and playing fields and the surgery was in a delightful location. The school was neat and tidy and everyone they met was helpful and friendly. Many congratulations Whiteparish!".

Other topics discussed included: our stretch of the A27 remaining on the Freight Assessment and Priority Mechanism (FAPM) list of the Wilts Council Community Area Transport Group; Wilts Council's Community Emergency Plan; damage to the recently installed high kerbs at the Miles Lane/A27 junction; Rights of Way; and the fact that a "metro count" has been requested for The Street. (A quick google suggests that this last is a traffic survey and analysis system, possibly using kit from a firm called MetroCount.) To see the full notes, click here.
MEM CENTRE CAR PARK LIGHTING: FOLLOW UP.
At their meeting on 20th October, the Memorial Trustees discussed the problem of lighting in the Memorial Centre car park, and considered opinions from villagers who were present or who had made passed comments to the trustees earlier. The majority view was that the proposed level of lighting offered poor value given the limited lighting that would result, which would also add to light pollution. It was therefore agreed not to proceed with additional lighting at this time.

However it was pointed out that the main issue for hall users was the uneven-ness and poor state of the car park surface, and that in view of the limited funds available to the Trust perhaps this should take precedence. The Trustees therefore agreed to set up a working party to explore short and long term solutions to the issues raised, and understood to keep villagers informed. The Trustees also reminded the public that they are invited to attend Memorial Trust meetings.
DR GOTHAM TALK A SELL-OUT.





. . . well, they ran out of chairs, anyway! On 27th October 2015 Dr Chris Gotham spoke on two main topics—Diabetes and trends in GP practice—to a large and appreciative audience of Whiteparish Surgery patients and others (88 in all) in the Memorial Hall, and took part in a question and answer session afterwards. All whom we spoke to afterwards felt it had been thoroughly worthwhile. The Whiteparish Surgery Patient Participation Group (PPG), who organised the evening, hope that this will be the first in a series of events about medical and related matters over the coming months. We understand that there may be a video available of the event in due course on the Whiteparish Surgery web site.
SPECTACULAR RAINBOW ON 24th OCTOBER.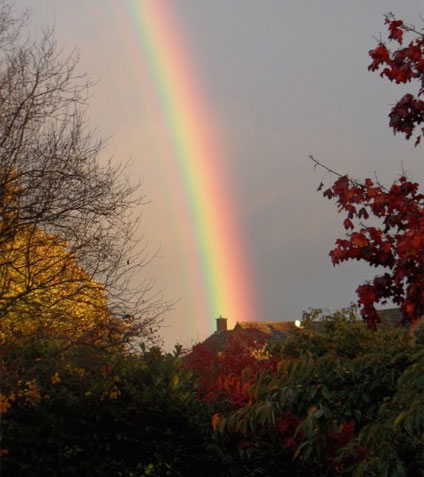 Mike Thorne sent us this nice photo of the impressive rainbow that could be seen from various places round Whiteparish late on Saturday afternoon. Mike writes "the attached photo . . . [was] taken from our house in Nunns Park on Saturday 24th Oct at about 17.30. The rainbow was the most intense i've ever seen, with several layers of colour banding inside the bow. It's framed by the autumn leaves on some local trees, and contains some houses in The Triangle."
TALK BY DR GOTHAM—ALL PATIENTS INVITED.

The Whiteparish Patient Participation Group (PPG) invites all Whiteparish Surgery patients to a public patients' meeting in the Memorial Hall on Tuesday 27th October, from 7.30 to 8.45 pm (tea/coffee and biscuits available from 7.00 pm) to hear Dr Chris Gotham talk about "Diabetes Awareness and the Changing Face of General Practice".
The PPG hopes that a large number of patients will attend this inaugural event, and that this will be the first of a series of meetings aimed at keeping patients well informed on health and Practice issues. They look forward to seeing you there!
SCAM ALERT.
Another in our occasional series of things to beware of in your email inbox! We received today a remarkably authentic-looking email message from Ocado, about a delivery scheduled for this afternoon. How did we know it wasn't genuine? Only because we're not Ocado customers. Increasingly, these phoney emails are modelled very closely on real communications from well-known companies, and are very convincing. The object is to get you to download the attached file, which is usually an MS Word or Excel document described as an invoice or receipt. If your operating system is Windows, opening the phoney file will install malware on your PC, typically a keylogger to try to steal bank details, etc.
The best advice, as always, is NEVER to download attachments that you weren't expecting, even if the accompanying email seems to have come from a familiar source. The internet's full of bad people. From a quick Google search, it seems the fake delivery notification we received today, or rather the MS Word attachment that came with it, contained a macro that would have installed a keylogger program called Dridex on our PC. (For more information about Dridex, click here.)
FROM THE JOURNAL.
Three items in the October 15, 2015 edition of the "Salisbury Journal" caught the eye as affecting our part of South Wilts, or the county as a whole:

(1) Apparently Wiltshire County Council have decided that they can't afford to maintain 24 public toilets around the county, and is looking to offload them to parish councils or other local groups or failing that to close them. The toilets in question are scattered round the county, but they include some in Amesbury, Downton, and Salisbury. Could be important for Whiteparishioners visiting those nearby places when out shopping or socially! So if you want to comment, visit www.wiltshire.gov.uk/publicconveniencessurvey.htm and tell the council what you think. (For the full story, see Journal page 2.)

(2) In a half-page story on page 5, the Journal features interesting quotes from Dr Rachel Clapton of Whiteparish Surgery, in her role as Communications Director of the Wessex Primary Healthcare Alliance (WPHCA), which represents 25 South Wilts GP practices and cares for more than 200,000 patients (including most of us, presumably).

(3) Finally in this little round-up, in an editorial on page 2, titled "Complaints against police rise as staff numbers fall", the Journal takes a dim view of the trend that the title alludes to, and of certain statements by Police Commissioner Angus Macpherson.
WHITEPARISH YOUTH GROUP PAGE.
We were very pleased recently to be asked to add a page about the Whiteparish Youth Group (WYG) to the website, which you can view by clicking here.
FOLLOWING ON FROM THE ABOVE.
If you represent any Whiteparish club or organisation that isn't currently featured on the site—please get in touch and we'd be delighted to add a page for you too. Like the Youth Group, your organisation may already be using social media (Facebook, Twitter, whatever) to communicate with members, and that's obviously fine; but the Community Website can play a part too. As well as being useful to those living here (hopefully), it gives the outside world an idea of who we folk of Whiteparish are, what facilities we have here, and what we get up to (within reason!), in our village.
The most recent visitor stats show that in one week the web server served 3236 sessions in responding to website visitors. Even after we discount the 953 of those that were initiated by robots (!), that still leaves well over two thousand visits in a single week. And a proportion of those visitors would quite possibly have been people thinking of moving here, and probably wanting to know—amongst other things—about the clubs and other organisations here, and whether Whiteparish seemed like an active and lively place.
Just a thought . . . .
NEW MOBILE LIBRARY SCHEDULE ANNOUNCED.
Wiltshire Council have announced the schedule for Whiteparish's Mobile Libary Service that will apply after the 27th October 2015. Starting on the 7th November, the service will call at Ashmore Close on Saturdays, at four-weekly intervals, between 11.45 am and 12.15 pm. Starting on the 19th November, the service will also visit the village on Thursdays, at four-weekly intervals: stopping at Ashmore Close between 10.35 and 11.05 am, and at Whiteparish School in Common Rd between 11.10 am and 12.10 pm.
For your convenience, we've included a table showing the schedule up to 7th April 2016 on the website; to view, click here.
CAR PARK LIGHTING FOR MEMORIAL CENTRE.
Some users of the Memorial Centre have complained about the lack of lighting in the car parking area. The Memorial Trust are concerned that a suggested solution that would be acceptable to the County Ecologist would be both (a) expensive, and (b) possibly not bright enough, meaning that car-park users might still have to use torches to light their way to the Memorial Centre for night-time events. All interested villagers are therefore invited to attend the Trust meeting in the Cowesfield Room at 7.30 pm on the 29th October, to make their views known. For the full version of the Trust's notice on this subject (the above is only a very brief summary), see the Oct 2015 issue of Steeple & Street or click here.
2015 ANNUAL FIREWORKS.
The date for this year's Whiteparish Fireworks Display has been set for the 14th of November, and the venue is to be behind the Parish Lantern. The proceeds from this event go to support Whiteparish All Saints School. It is organised by the school PTA, and kindly staged and sponsored by local firm Pains Fireworks; more details to follow. It's always a really spectacular display— so don't miss it!
SWAB MEETING IN DOWNTON, 1st October 2015
The next meeting of the Southern Wilts Area Board (SWAB) will focus on dementia, but other items on the agenda are activities for young people, the future of the footpath project, a report from the Police & Crime Commissioner's office, Community hubs, Community Area Transport Group, and Community grants. To find out more, you can click here, where there's a link to the full agenda (however, at the time of writing, it wasn't working). The meeting just referred to will be at the Trafalgar School, starting at 7.00 pm (refreshments available from 6.30 pm). If you're interested in dementia, or any of the other topics mentioned, or just curious about what the Area Board gets up to, why not go along?
PARISH COUNCIL MEETING, 3rd September 2015
According to the notes of this PC meeting, eight members of the public attended to express concern about the speed and weights of traffic using The Street. Other topics covered were forthcoming new schedules for the mobile libary service, the work of local volunteers on South Wiltshire paths, co-option of a new Councillor (Mr John Herrett), and the Community Area grants that the South Wilts Area Board (SWAB) can make available to local voluntary groups etc for suitable projects; SWAB say that these awards can really make a difference in helping communities get schemes and projects started. For more details of the meeting, click here. If you're interested in grants or other aspects of what SWAB does, there's a SWAB meeting in Downton on 1st October (see above item).
2015 FLOWER & HOBBIES SHOW PHOTOS
The Garden Club's Flower & Hobbies Show was staged this year on 22nd August in the Memorial Hall, and was enjoyed both by competitors and by non-competitors who had just come along to admire the high standard of the entries on display. Keith Hobbs was kind enough to give us a selection of photos taken at the event, and we've put together a new gallery which you can view by clicking here.
LOCAL CRIME REPORTS, August 2015.
With the most recent crime reports bulletin, PC Henry Clissold writes: "More trouble this month, with a spate of damage to vehicles; enquiries are ongoing with the hope of a good result shortly." And indeed around our neighbouring communities there were 13 separate cases of damage to vehicles, in most cases smashed windows with nothing taken. In Whiteparish no vehicle damage was reported, but a whole car, and a generator, were stolen. For more details, click here.
MORE HEALTHY OUTDOOR STUFF—NEW FOREST WALKS.
New Forest National Park Authority are organizing an autumn Walking Festival, 2015, comprising a wide variety of walks to be held within the New Forest area in the last two weeks of October. To find out more about the festival, click here. To download lists of walks by category and date, click here.
ORGANIZED CYCLING IN SOUTH WILTS AND BEYOND.
If you're interested in some late summer/autumn cycling locally, with like-minded people, there are a wide variety of both guided and social rides featured on the sky|ride website, as part of a scheme endorsed by Wiltshire council and involving British Cycling and (one imagines) largely subsidised by sky. The rides cover a range of difficulty and distances. To take a look, click here, decide whether you're interested in guided rides or social ones, and enter your postcode or the area you're interested in pedalling in.
LOCAL CRIME REPORTS, June and July 2015.
PC Henry Clissold (Community Beat Manager for Alderbury and Laverstock) has been recovering after a minor operation, but by June he was back to office duties and hoped to be out and about soon. In the meantime, Henry has forwarded the local crime reports for June and July, which show quite a flurry of crime in June, particularly in Laverstock and Old Sarum, and to a lesser extent in Whiteparish (where someone thought it would be clever to pull one of the competition scarecrows apart and scatter the contents all over the road . . .); but thankfully July was much quieter, with no reported incidents in Whiteparish and not many anywhere else. It's worth remembering, though, that not all categories of incidents are listed in these reports, and apparently in June there was a higher than usual rate of "domestic" incidents—one of the incident types that don't appear.
To see the June report, click here; for the July report, click here.
RECORD-BREAKING PROCEEDS FROM 2015 FETE.
As we noted at the time, this year's village fete seemed to be quite well attended, with more people staying right to the end than in some previous years, and we wondered if the profits (which are shared between All Saints Church and School) might be a new record. Were they ever?! The fete and related events raised a remarkable £8,500, not just a record but a whole £2500 or so more than in 2014. Congratulations again to all who played a part in making the 2015 fete such a success. One imagines that the next fete committee will be doing some careful analysis to try to figure out what things went especially well in 2015, to try to carry this great result forward.
Talking of which, the first meeting of the 2016 Fete committee will be held as soon as Tuesday 6th October, at 7.30 pm in the Parish Lantern. If you're interested in helping to make 2016's fete even more successful than this year's (though that may be a bit of a challenge), do please come to the meeting.
BEST KEPT VILLAGE 2015.
In the report of the 9th July Parish Council meeting comes the good news that Whiteparish has come first in the South Wiltshire Large Village section of this year's Best Kept Village competition. Winning villages in each category now go forward to be judged in the County Round. So congratulations to everyone who has contributed to keeping our village clean and tidy.
Other topics covered during the same PC meeting include Mr Neil Sutherland being co-opted onto the council; a vacancy for another councillor; new opening times for the county's recycling centres; and different ways of reporting "highway issues". To read more about these, and other items discussed, click here.
"COMPLINE" SERVICE AT ALL SAINTS CHURCH, SUN 26 JULY 2015.
Richard Tulloch has asked us to pass on some information about a special service this coming weekend, as follows:
" . . . This Sunday (the 26th) at 8pm, the service of compline will be held in All Saints Church. The Revd Jane Dunlop will be officiating and the music will be sung by the church's choir.
The music is largely plainsong, and this reflects the service's origins, as the last office (or service) of the day in many monasteries, many centuries ago. However, the plainsong will be contrasted on Sunday with full polyphonic singing, in three or four parts, by the choir at three points in the service. The purpose of the service is to allow members of the congregation to reflect on their day and prepare for a peaceful night, secure in God's love."
HISTORY GROUP'S 2015/2016 PROGRAMME.
The Whiteparish History Group's latest winter programme of evening talks—held roughly monthly in the Memorial Centre—looks just as interesting as in recent years, and you might want to put some (or all) of them in your diary. First up in the new season will be a talk by Ross Dunsworth on Whiteparish's Anglo-Saxon period, at 7.30 pm on September 17th. More details of the programme are on the History Group page, which you can see by clicking here. After quite a few years of sterling service in the role, Jenny Harrison has stood down as "Chair" and is replaced by David Pantling. Similarly Ches Carpenter has decided to stand down as Secretary, but as yet no replacement has been found for Ches.
2015 FETE, SATURDAY 13th JUNE.
Thanks to the sterling efforts of the Fete Committee and many other volunteers, this year's fete was very enjoyable, and yet another in a long succession of mostly rainless fetes over recent years. Neil Stace—Great British Sewing Bee finalist and former Whiteparish resident—returned to be our enthusiastic and entertaining fete-opener and prize-giver, and to join in the festivities and say hallo to old friends. With plenty of stalls and activities to keep people entertained, attendance seemed well up with previous years too, and we're looking forward to finding out how much the "Whiteparish Week" events raised in total for All Saints Church and School. Could 2015 be another record year?
One part of the programme that was a little disappointing was the very low turnout for the pre-opening procession, which this year was reduced to just a handful of participants. Their costumes were excellent—and good fun—but one wonders if this year we might perhaps have seen the last of the fete processions. Let's hope not.
Any drama had occurred on the preceding evening when, apart from the unexpected arrival of the helicopters (see next story), it looked at one point as if the expected delivery of booked Portaloos wasn't going to happen! However, happily they did turn up, and the Friday night Hog Roast and and Bands Night went off smoothly, though the weather was a tad damp.
We've added a selection of fete photos to the galleries section of the website. which you can see by clicking here.
"IS THAT PART OF THE SHOW . . .?"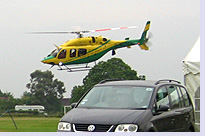 . . . is what someone asked, reasonably enough, as the first of TWO helicopters landed on the Memorial Ground on the Friday evening before fete day, just as the "Wacky Olympics" were drawing to a close before giving way to the Hog Roast and Bands Night! Well, no, it wasn't part of the show—the medical staff at Whiteparish Surgery had an emergency on their hands. A patient needed to be flown to hospital, and the second helicopter had flown in a volunteer consultant anaesthetist who had to treat the patient before their flight.
After hearing an explanation of what was happening, the early arrivals for the Bands Night were very cooperative and stayed back as the patient was loaded onto one helicopter and the anaesthetist back on to the other, so that the two aircraft could take off again safely. Later it was suggested that perhaps it would be a good idea to take up a collection on fete day for the three charities that had been involved in the exercise (Great Western Air Ambulance, Wiltshire Air Ambulance, and SWIFT Medics).
Well the most important thing about the whole exercise was of course the patient, and we're glad to be able to report that they are well, and back at home. But another good result is that thanks to the generosity of fete-goers the next day, the whip-round raised a very worthwhile £145.52 to share between the three charities.
LOCAL CRIME IN MAY 2015.
According to the latest bulletin from our Neighbourhood Policing Team, there were a fair sprinkling of burglaries, and instances of criminal damage (including one in Whiteparish) during May, but three of our neighbouring villages had no crimes reported (in the categories that appear in these bulletins, anyeay). For more detail, click here.
2015 BANDS NIGHT RUNNING ORDER Bands performing at the Hog Roast and Bands Night, Friday 12th June, will be as follows:
6.30 pm: Missing Monkeys
7.00 pm: Frenzied and the Diligent
7.40 pm: Maddie Cooper
8.10 pm: Big Fret
9.00 pm: Lucy Gilbert
9.30 pm: May Contain Nuts
11.00 pm: CLOSE
NOTE: Acts and timings are subject to change.
SCARECROWS GALLERY.
Whiteparish's population of scarecrows continued to grow; up to over sixty, we hear. Could have reached seventy or even eighty, but it depends on how you count the groups. Anyway, the closing date for entering the competition to choose your favourite scarecrow is now past, and Keith Hobbs has been prowling the Whiteparish highways and byways, seeking out scarecrows to photograph. We've put over fifty of Keith's scarecrow pictures in a gallery on the website, which you can view by clicking here or via the Galleries link in the "Village" menu. Some of the image files are quite big, so please allowa few seconds for the gallery to load.
Because this gallery is the first we've built using some new software, it's not fully integrated into the website yet, so once you've finished looking at the gallery you'll have to click on the "previous" tab or use your browser's history to get back to this page. We'll sort these things out, and hope to add any scarecrows currently missing, as soon as possible.
WHITEPARISH INVADED BY SCARECROWS!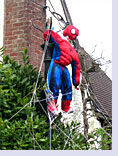 Over the last few days, Whiteparish's population seems to have gone up dramatically—by over fifty newcomers: lounging around, involved in petty crime, even playing cricket on the verges of our busy roads. Scruffy dressers, too, some of them. Well in case you didn't realize, they're all part of what has already turned out to be a very successful idea from this year's fete committee.
Yes, other villages around these parts may have done something similar, but Whiteparish's version is off to a flying start, and at the time of writing 58 households had committed to joining in by making and displaying their entries in the Scarecrow Competition and Trail, which enters them in the competition for Best Scarecrow (with "mystery prize"). Unfortunately the closing date for new scarecrows has now past, but there's a second part to this event. From the 3rd of June you can buy a map of the Scarecrow Trail from the Village Shop or School, check out the scarecrows, and vote for your favourite. Voting slips will be entered into a prize draw. For a bit more information, you can view or download the Scarecrow Competition and Trail poster by clicking here.
MEMORIAL TRUST TRUSTEE REQUIRED.
Under the constitution of the Memorial Trust the Parish Council is responsible for appointing three Trustees, who can be either Parish Councillors or members of the public. A vacancy has arisen due to the resignation of a Parish-Council-nominated Trustee, and the Council wishes to appoint a member of the public as a Trustee to fill this vacancy.
If you are interested in becoming a Trustee, please contact the Parish Clerk at maria.pennington456 @ btinternet.com (note: the foregoing address is not a link, copy and paste it into your email program and delete the spaces).
PARISH COUNCIL VACANCIES.
Are you interested in serving the community? There are two vacancies on the Parish Council, which will be filled by co-option at the next Parish Council meeting, on July 9th, 2015. For more information please contact the clerk, Maria Pennington, on 01722 711 858.
PARISH COUNCIL AGM.
The 2015 Annual General Meeting of the Parish Council was held in the Memorial Centre on 20th May. Amongst the the items covered at the meeting were the election of Chair and Vice Chair (Trevor King and Mike Hayday, respectively) and of councillors as representatives and committee members (details to follow); the existence of two vacancies on the Parish Council (see separate story); and forthcoming the halving of the Wiltshire Council Mobile Library service, meaning that visits to Whiteparish will be reduced from fortnightly to four-weekly. (However, there will be a "consultation" with users.) For more details of these and other topics covered, click here..
LOOKING BACK ON THE 2015 WHITEPARISH MUSIC FESTIVAL.
It was good to see from Festival Secretary John Hall's report of the April 11th to 18th Festival in Steeple and Street that the event as a whole had raised £2,300 for maintaining the church and churchyard, which as John said was a splendid result. We were only able to attend one of the concerts—Will Pickvance's "Anatomy of the Piano"—which we thought was terrific; so much so that we were inspired to write a brief report of our own for the website. You can see it, along with a (not very good) photo, by clicking here.
NEW ADDITIONS TO THE WEBSITE.
New British Legion Page. We were very pleased to be asked to add a new page (with corresponding menu entries) for the Whiteparish Branch of the Royal British Legion. You can see contact information and some background about the Royal British Legion by clicking here.

World Wars Memorial/Remembrance Book. We have also added a page about the "Whiteparish Book of Remembrance to the Fallen of the Great Wars" that a team of volunteers recently compiled to mark the 100th anniversary of the start of WW1. For a little more background about the book (which we understand may eventually go on display in All Saints Church), click here. To go straight to view a pdf file of the book's inside pages, click here.
CHURCH PAGE PROBLEM
Apologies to anyone who has tried to access the website's page for All Saints Church recently (in particular the monthly diary of services), and has been greeted with an error message instead. This has arisen because whiteparish.co.uk's hosting company recently upgraded their servers, causing some glitches here and there on the website. The problem with the church page has been the most stubborn, but we're working on it with the hosting company and hopefully it will soon be fixed. (It was actually working yesterday, but has since broken again. Grrr.)
BROADBAND DOWN THE A27.
A new poster notice to do with fibre broadband was stuck on the green BT box outside Courtens recently, and on further investigation we were delighted to find that we could actually order it now, from our chosen supplier. Many of us down in this corner of the Whiteparish exchange area will be quite a distance from the green box, but hopefully most of us could see a worthwhile improvement in broadband speeds by ordering a fibre package.
Are there any other pockets of the Whiteparish exchange area that are still waiting to be able to order fibre? We'd be very interested to know.
GET WILTSHIRE WALKING!
The Get Wiltshire Walking! campaign, sponsored by Wiltshire Council and part of the nationwide Walking for Health initiative, provides free walking groups led by trained walk leaders operating from over 20 locations around the county. According to the information we were sent, walks may be "starter walks" lasting around 30 minutes, "fit walks" lasting around 45 minutes and designed to get heart and lungs working harder, and "standard walks" which last around an hour and a quarter. Most of those listed seem to be standard walks.
Unfortunately nearly all the starting points for the walks are located north of Salisbury (from Amesbury upwards), but there is one in our neck of the woods (starting at the Borough Cafe in Downton), and and of course there are many independent walking groups, such as Salisnury and District Walking for Health. For a leaflet in pdf format about the Get Wiltshire Walking! scheme, including contact details for some independent walking groups, click here. For information about free training as a walk leader, click here.
PARISH COUNCIL: ANNUAL PARISH MEETING.
The Annual Parish Meeting was held on 24th March 2015, in the Memorial Centre, followed by a regular Parish Council meeting.
At the Annual Parish meeting, points raised by the 15 members of the public present included rubbish on the A36, a 20 mph speed limit on part of Common Road, possibly unnecessary road markings on Parkwater Rd, access to Mean Wood, and artwork design for the skate ramp. For details, click here.
Topics covered at the normal Parish Council meeting included a vacancy on the Parish Council (contact the parish clerk or a councillor if interested), the Miles Lane/A27 junction, the Parish Council boundary fence, the skate ramp, the Best Kept Village competition, rights of way, and dog mess (again). For details, click here.
CRIME IN MARCH 2015; NEW PCSO.
According to the lastest reports from the Neighbourhood Policing Team, March was a quiet month for Whiteparish crimewise, with just one theft listed. However, PC Henry Clissold also writes:
"New PCSO in Training
Our new PCSO Guy Hamel has started with the team and is currently under tutorship, I am sure he will be seen around the villages in the coming weeks, please make him feel welcome."
For more details, of local crime in March, click here.
WHITEPARISH MUSIC FESTIVAL: 11 to 18 April


Just a reminder about the week-long Music Festival being held between the 11th and 18th of April, in Whiteparish's All Saints Church, in aid of church funds. The events kick off on Saturday 11th April with a "Come and Sing" rehearsal and performance of Puccini's "Messa di Gloria", directed by Michael Keeley. On Tuesday 14th All Saints Church Choir perform music by Thomas Tallis and Thomas Ravenscroft, followed on Thursday by the Farrant Singers performing choral classics. Finally, on Saturday Will Pickvance (the chap on the left) brings his Edinburgh Fringe show "Anatomy of the Piano" to Whiteparish. All performances very reasonably priced; for more details, click here.
COMMUNITY NEWS IN SOUTH WILTSHIRE
A couple of recent announcements from this SWAB-run email newsletter:
Local Youth Network for Whiteparish cluster of villages
Got an idea for a youth project? Want support setting up a group? Got nothing to do and want to let us know what you want?
It is also an opportunity to be part of a working group to help support what is needed for youth within your community, as well as:
• A chance to generate ideas, visions and people to move forward with positive youth activities in your area
• An opportunity to learn about Area Board funding and grants available.
To see the whole newsletter, click here.
Do you need funding for your group?
Our challenge is to make a positive change in Wiltshire and Swindon by helping local groups make life better for their communities. We want to help you to support those who need it most. For more information and to see the whole newsletter, click here.
VOLUNTEERING FOR AGE-UK.
Recently we received a press release from the Age-UK office in Salisbury about a new push for volunteer home visitors. Although the release doesn't make it obvious, they tell us that volunteers can be matched to areas, so if you wanted to join the scheme and concentrate on visiting in and around the Whiteparish area, that is presumably possible. For more information, you can see the press release by clicking here.
PARISH COUNCIL NEWS.
Among the topics discussed at the 24th February Parish Council meeting were the following:
A 20 mph speed restriction along part of Common Rd, which is now to go ahead.
The poor condition of Miles Lane.
A temporary closure of Dean Lane between its junctions with The Green, and bridleway 33, to enable Wessex Water to work on the carriageway. This closure is expected to last for one day.
For more information about these and other matters discussed, including a telephone number for enquiries about the Dean Lane closure, click here.
LOCAL CRIME IN FEBRUARY 2015.
For the second month running, according to the regular bulletin from the Neighbourhood Policing Team, Whiteparish had more reported crimes (three this time) than any of our twelve neighbouring communities, eight of which had no reported incidents (in the categories of crime included in these bulletins). So a very quiet month in general, but not for us! For more details, click here.
MUSIC FESTIVAL, 11th to 18th APRIL.
Following the success of previous events over the last few years, the 2015 Whiteparish Music Festival will include four separate concerts to be staged in All Saints Church during April. These will be:
Saturday 11th April: "Come and Sing" Puccini's Messa di Gloria, directed by Michael Keeley.
Tuesday 14th April: "A Tale of Two Thomases"—music by Thomas Tallis and Thomas Ravenscroft, sung by the All Saints Church Choir
Thursday 16th April: "Nunc Dimittis, choral classics from around Europe", sung by The Farrant Singers.
Saturday 18th April: "Anatomy of the Piano", Will Pickvance performs his Edinburgh Fringe Show.
For full details, including times and where you can get tickets, click here.
AREA BOARD SURVEY
Area Boards like the Southern Wilts Area Board (SWAB) have been operating in Wilts for over five years, and Wiltshire Council would like to know what you think of them (even if you've never attended one), and other related facilities such as the online-issues system and the Our Community Matters website and newsletters. To fill in the Council's online survey, click here. But hurry, because the survey closes on 9th March 2015.
BROWNIE NEWS
For a round-up from "Little Owl" of what our local Brownies got up to during 2014, click here!
BROADBAND DOWN THE A27.
Residents living in the heart of Whiteparish have had the opportunity to connect to so-called "Superfast" broadband since the middle of 2014. However some who are further away from the village exchange haven't, and if you're among them (like us) you may be wondering if we've been forgotten. We're glad to be able to report that for people living in the village outskirts on or around the A27 in the Romsey direction there's hope. We contacted Wiltshire Online recently and got the following reply:

"Thank you for your query. Your premise is served by Cabinet 1 from the Whiteparish exchange which is in the progress of being upgraded as part of this project. Unfortunately we are having issues with getting a power connection to the new fibre cabinet. Ordinarily the power would be brought from a suitable power supply through an underground duct however, in the case of your cabinet the power is having to be brought via an mixture of both underground and overhead power. In addition we are also having to connect to a high voltage cable which will require us to shut down the power to the area. Unfortunately all these issues mean that we are reliant on the power company providing us with a specialist resource who is able to undertake the required works.
As yet I don't have a date for when the work can be undertaken; may I suggest contacting me again in 4-6 weeks for an update?"
So it looks as if there's light at the end of the tunnel for premises connected to Cabinet 1, though just how super the "superfast" will be if you're an appreciable distance from the cabinet remains to be seen. We'll try to remember to check on progress in a few weeks. Meanwhile, are there any other areas served by the Whiteparish Exchange where superfast is still not orderable? We'd be interested to hear from you. (To find out which cabinet you are connected to, click here.)
WILTSHIRE & SWINDON COMMUNITY MESSAGING LAUNCH.
Katrina Fleet of Wiltshire Police writes to ask us to publicise a new service, as follows:
"You can now sign up for free messages - by email, text or voicemail - about policing and crime matters relating to your area and interests by joining Wiltshire and Swindon Community Messaging. Wiltshire Police and the Police and Crime Commissioner for Wiltshire and Swindon, Angus Macpherson, are committed to involving communities in the prevention and reduction of crime and anti-social behaviour. Working alongside Neighbourhood Watch, Wiltshire and Swindon Community Messaging aims to improve the flow of information between communities and the police.
PCC Angus Macpherson, who is commissioning this new initiative, said: "The whole of Wiltshire is now covered by Swindon and Wiltshire Community Messaging, bringing the public into contact with the police and Neighbourhood Watch. "I now look forward to working with other partners in Wiltshire and Swindon to extend the excellent services provided by Wiltshire Police and to build on the title 'Community' Messaging."
Wiltshire Police Chief Constable Pat Geenty said: "Community Messaging enables us to reach out to all the people that may not use social media and other channels. It provides the public with messages in a format that suits them and keeps them up to date with police matters in their local area."
People signed up will be able to receive messages about policing and crime matters in their area, such as community policing news and events, appeals for information and crime prevention advice. They will also be able to reply to messages, feeding back information to their local neighbourhood officers to help them in policing their local area.
To find out more and to sign up visit www.wiltsmessaging.co.uk or speak to your local police officer. Wiltshire and Swindon Community Messaging will NOT be monitored 24 hours a day. People should always call 999 in an emergency or 101 in a non-emergency."
PC Henry Clissold, our local Community Beat Officer, adds: "As a team we would love you to sign up to this new initiative which provides us a great opportunity to get messages and information out to our areas in a timely fashion."
EASTER CHILDREN'S COURSES.
In the usual smörgåsbord of interesting items appearing on the "our Community Matters" website for southern Wiltshire recently are two Easter courses for children, to be run fairly locally. These are
"Shine"—aimed at helping children aged seven to eleven to lose weight, held at Manor Fields Primary School in Salisbury, (click here for more details); and
"Sloggerz"—cricket courses for eight-to-14-year olds, male or female, held at Bishop Wordsworth's School, (click here for more details).
For the current issue of Our Community Matters, click here.
LOCAL CRIME IN JANUARY 2015.
In the first month of the new year, Whiteparish had more reported crimes (four) than any of our neighbouring communities, including thefts of heating oil and a trailer, and burglary of a garage. A quiet month for West Dean, the Grimsteads, and Pitton though, with no reported incidents. For more information, click here.
PROPOSED SOLAR PARK.
The developers Hive Energy are holding a second presentation on Wednesday 25th February about the proposed Solar Farm at Witherington Farm, just off the A36 on the outskirts of Whaddon. At the meeting, interested local residents will have the opportunity to ask questions and see images of the proposed development. This meeting will be in Alderbury Village Hall, starting at 7.30 pm, with doors opening at 7.00 pm. You can see more on Hive Energy's website by clicking here.
PARISH COUNCIL NEWS: ANNUAL PARISH MEETING
At their meeting held on the 20th January 2015, the Council invited villagers to come and meet their Parish Councillors and find out what the Parish Council does at the Annual Parish Meeting on Tuesday 24th March at 7.30pm in the Memorial Centre.
Everyone is welcome. Although the meeting is chaired by the Parish Council Chairman, it is just what the name suggests: a meeting of the parish. If you have any concerns or wish to raise a particular matter of local concern, then why not come to this meeting and have your say, and find out what else is hsppening in the parish?
Other topics covered included a possible change of status for the Post Office, from a branch to one of the new "local branches" Dog mess (again), and opportunities for volunteering to improve public paths in South Wilts. For moare about what was covered at the meeting, click here.
CORE STRATEGY DEVELOPMENT PLAN ADOPTED
Wiltshire Council have distributed the following announcement:
"On 20th January 2015, Wiltshire Council adopted the Wiltshire Core Strategy Development Plan Document (the Plan). The Core Strategy sets out the vision, objectives, spatial development strategy and overarching policies that will guide development in Wiltshire to 2026.
The Plan was the subject of an independent examination conducted by an Inspector appointed by the Secretary of State. The Inspector's Report was published in December 2014 and the adopted Plan incorporates the main modifications recommended by the Inspector in his Report.
Any person aggrieved by the Plan may make an application under Section 113 of the Planning and Compulsory Purchase Act 2004 to the High Court on the grounds that the document is not within the appropriate powers or that a procedural requirement has not been complied with. Any such application must be made by no later than six weeks from the date of adoption, 20 January 2015.
Details of where you can view the Plan and associated documents (including the Inspector's Report, Adoption Statement, Sustainability Appraisal (SA) Report and SA Adoption Statement, and Habitats Regulations Assessment) are set out in the Adoption Statement attached." (Viewable by clicking here.)
CRIME OVER CHRISTMAS.
According to the local crime reports for December 2014, provided as usual by our local Neighbourhood Policing Team, December was, perhaps surprisingly, a fairly quiet month locally—everywhere except Whiteparish! With most of our neighbouring communities experiencing no crimes or one (in the crime categories covered by these reports), we had five, including two incidents involving stolen chainsaws and one instance of security camera theft! For more information, click here.
---
ARCHIVED HOME PAGE ITEMS
By late 2009, and then again in late 2012 and 2013, and then again in 2015, the home page had grown to a ridiculous length (because we'd simply been adding to it for far too long). So there is a separate archive page for older material, which you can view by clicking here.
Forthcoming News and Events:
Click here for our Forthcoming News and Events list, or see the diary sections for individual organisations. To suggest an event to be featured on the website, email us at events@whiteparish.co.uk.