---
OTHER NEWS ITEMS
MEMORIAL GROUND/SURGERY CAR PARK RESURFACING, WEDNESDAY 25th AUGUST 2021
[Notice from the Whiteparish Memorial Ground Charitable Trust]
The car park used by Memorial Centre and Ground users and Surgery visitors is being resurfaced. It is anticipated that work will take 5 to 10 days to complete. The car park will be closed for most of the time. The Surgery Practice management, the Trust and the contractor will work together to provide parking as far as it is possible to do so during the works. If the weather is dry, the Trust will allow car parking along the church wall at the edge of the cricket boundary during weekdays. We hope a portion of the car park will be complete by Saturday 28th so as to allow weekend parking for both Surgery and Memorial Ground and Centre users. Pedestrian access to the surgery will be clearly marked. We ask that Memorial Centre visitors use the Romsey Road pedestrian entrance to reach the centre during the period of the works.

We request that any persons using the car park overnight remove their vehicles for the duration of the works and that all users limit parking to essential Surgery and Memorial Centre visits only.

Pedestrian access to the Surgery will be clearly marked. Patients are asked to take additional care when visiting the surgery. The Surgery and the Trustees apologise for any inconvenience.
PARISH LAND PURCHASE UPDATE
In January 2021 the Parish Council announced that it had purchased land for a cemetery. This was because back in 2019 we had been advised in writing, by the church and a local undertaker, that there was no more than 5 years' capacity at that time. Acting in good faith, the Parish Council spent a considerable amount of time and money searching for land for a new burial ground within the parish as a consequence of the information supplied to us by the Parochial Church Council.

Since the land was purchased, the Parochial Church Council has revised its estimate of remaining burial capacity in the churchyard and now estimates that there is sufficient space for a minimum of 10 years and possibly 20 years.

At this stage the Parish Council is not minded to proceed with a planning application for a cemetery as it would be very difficult to prove a need.

While the Parish Council does not have a statutory duty to provide a cemetery it is our current intention to retain this land for this potential use, subject to planning consent. However, circumstances may change and the Parish Council may review its decision. The Parochial Church Council has been advised that, should there be a substantive change in the remaining burial capacity, planning consent is not guaranteed, the process is not straightforward, and a sufficient lead time would be necessary.

The Parish Council is considering alternative uses of its field including letting the land out, in its current state, for animal grazing. If any resident is interested in renting this land from the Parish Council for this purpose, please contact the Parish Council Clerk (clerk@whiteparish-pc.gov.uk).
WILTS COUNCIL WEBINAR ON COVID-19, 15 JULY 2021.
Ahead of the changes to social distancing measures on 19 July, Wilts Council are hosting a live online webinar to update you with the latest COVID-19 information in Wiltshire. The Webinar starts at 6pm, and requires the Microsoft Teams app. You can join it tonight (Thursday 15 July) at 6pm. Wiltshire Council Leader Cllr Richard Clewer will be joined by Terence Herbert, Chief Executive of Wiltshire Council and Kate Blackburn, Director of Public Health for Wiltshire and Gill May from the Bath, Swindon and Wiltshire Clinical Commissioning Group to talk you through the latest information and answer your questions.
To join the webinar, click here. (Sorry if you are seeing this too late to join—we only saw the notice from the council on the day scheduled for the webinar. However, a recording of the webinar is now available on Youtube via this link.)
APRIL HISTORY GROUP MEETING ON CUNARD LINE.
The History and Environmental Group's Zoom meeting at 7.30 pm on Thursday 15th March will be a talk by Steve Herra on "Cunard History and Glamourous Stars", featuringthe history of the Cunard Line from 1840 until the present day, including some of the more famous liners (not all of them though, because there were nearly 250!). For more information, click here.
FEB HISTORY GROUP MEETING ON TWO INFLUENTIAL LOCAL FAMILIES.
The History and Environmental Group's Zoom meeting at 7.30 pm on Thursday 18th February will be a presentation by Michael Foster about two families—the Eyres and the St Barbes—who became established in Whiteparish in the latter part of the 17th Centrury and early in the 18th century, respectively, forging connections that would "survive the centuries" that followed. For more information, click here.
FIRST HISTORY GROUP MEETING OF 2021.
The History and Environmental Group will continue to meet remotely and our next meeting (the first of 2021) will be via Zoom. The date is 21st January and Dan Miles of Historic England will give an illustrated talk on RECORDING THE SCARS OF THE ENGLISH CIVIL WAR IN WILTSHIRE—A talk about what archeology can tell us about the sieges and battles of the English Civil War in Wiltshire.

Full details will be sent to all members. Non-members are welcome to join the meeting for a small fee (£4.00)—please contact our Treasurer Graham Lee at grahamlee07@btinternet.com for the details and meeting link.
VACCINATION SCAM WARNING FROM WILTS COUNCIL.
Councillor Richard Britton has cascaded the following warning from Wilts Council: "Please be aware that there is a widespread scam whereby a telephone call purports to be arranging a vaccination appointment but require various items of personal information . . . We can be assured that a genuine NHS or GP caller will not require any personal information."
CHRISTMAS & NEW YEAR WASTE AND RECYCLING DAY CHANGES.
For changes to normal collection day schedules applying between 24 December 2020 and 11 January 2021, click here.
HIGHEST LEVEL YET OF CORONAVIRUS CASES IN WILTSHIRE.
Wiltshire Council has recorded that 149 new Covid-19 cases were reported in the 24 hours of 23rd December, 2020, the biggest increase of daily cases in the county (less the Swindon area) since the start of the pandemic.
PEOPLE-FRIENDLY SALISBURY PROJECT REFUSES TO LIE DOWN.
Despite the decision to suspend the controversial PFS scheme "indefinitely", as mentioned a couple of paragraphs ago, Salisbury City Council voted in a special meeeting on 14 December to support it after all, by 12 votes to 10. Subsequently, as reported in the Salisbury Journal online on the 21st December, a group of residents established a People Friendly Salisbury Support Group (PFSSG), which expressed delight that Salisbury City Council had voted for the project's reinstatement. For more information there is a facebook page: facebook.com/PeopleFriendlySalisbury.
ENTERTAINING TALK ON DORSET FOR HISTORY & ENVIRONMENTAL GROUP
Members of Whiteparish's History & Environmental Group were treated to what sounds like a very interesting talk about one of our neighbouring counties on the 19th November via a Zoom meeting. For more information about that evening and the forthcoming December meeting, click here.
"PEOPLE-FRIENDLY SALISBURY" PROJECT TO BE SUSPENDED.
Wiltshire Council's conntroversial scheme for cutting down and rerouting traffic in central Salisbury is to be dropped as from the end of November 2020—hardly a month since its introduction. The county council blames Salisbury City Council's refusal to confirm their continued support for the scheme, as well as a request from Salisbury Business Improvement District (BID) that the scheme be suspended. In the County Council's e-bulletin "Wiltshire News", Cllr Philip Whitehead, Leader of Wiltshire Council, said:
"We are very disappointed and surprised that Salisbury City Council will not offer their continued support for People Friendly Salisbury. The scheme delivers to the objectives of the Central Area Framework for people friendly streets as well as the city council's climate change ambitions. The city council were pivotal to the scheme being introduced and previously provided clear backing for this important scheme.

The People Friendly Salisbury initiative was implemented as part of the council's wider strategy to support Salisbury and was an excellent way to help reduce traffic within the city, improve air quality and give pedestrians priority in the city centre. It was designed to help transform the city, making it a more attractive place to visit, shop and work. Early evidence proves that the scheme is having a positive impact with equal number of shoppers visiting the centre whilst the traffic is halved. As with other such schemes elsewhere in the UK, more time would have been required to see all the economic, social and environmental benefits.

We know that many residents and businesses are advocates of this initiative and Wiltshire Council remains committed to the scheme. However, unfortunately without the continued support of partners and stakeholders, at this time we cannot continue with People Friendly Salisbury."

(For more about the People-Friendly Salisbury project, click here. For more about the County Council's announcement of its being suspended, click here.)
ANOTHER PLATINUM AWARD FOR THE SURGERY'S WORK FOR CARERS.
Carer Support Wiltshire have announced that for the eighth year running Whiteparish Surgery have been recognised for their work in support of local unpaid carers—and for 2020 it's yet another platinum award (the highest level).

For nearly all of that period the role of "Carer Lead" at the surgery was filled by Kim Munro of the Reception Team, who was largely responsible for getting the surgery's quarterly Carer Coffee Mornings off the ground, and then running them (including organising guest presenters) until her recent retirement. Unfortunately Covid-19 has interrupted that programme, but the surgery remains committed to supporting carers and the role of Carer Lead is now fulfilled by Paula Wilson, also of the Reception Team.

For more information about Carer Support Wiltshire, click here.
SERIES OF BURGLARIES IN WHITEPARISH AND NOMANSLAND AREA.
[From an appeal distributed by Wiltshire Police via NeighbourhoodAlert on 17 November 2020]
"We're appealing for witnesses after a series of burglaries in the Whiteparish and Nomansland area of south Wiltshire. We've received several reports of outbuildings, garages and some vans being targeted by thieves. Items stolen include garden machinery and power tools.

We would like to hear from anyone who may have CCTV or was travelling through the area between 1am and 2.30am on Thursday 12 November and may have dash cam footage to help with our enquiries. We'd also like to hear from anyone, again with CCTV or dash cam footage, who was in the area around 11.30pm on Sunday 15 November and noticed anything suspicious. If you can help in any way, please contact PC Rachel Gunn on 101 quoting crime reference number 54200114088. Alternatively, you can report anonymously via Crimestoppers on 0800 555 111.

For crime prevention advice, please visit our website: Protecting Outbuildings and Vehicles."
HALLOWEEN: ADVICE ON COVID-19.



Wiltshire Council have issued some serious advice for county residents about enjoying Halloween safely during the COVID-19 pandemic, in quite a jolly format that looks like it's from the same stable as their regular "Wiltshire News" e-bulletins. For details, click here.
MORE HALLOWEEN ADVICE.
Neighbourhood Alert have also chipped in with some further Halloween advice, emphasising police activities which will include extra patrols on the date. For more details, click here.
END OF BRITISH SUMMER TIME.
Don't forget to put back any clocks and watches that are not self-adjusting by one hour this weekend. Practically speaking, for most of us that will be at bedtime on the night of Saturday 24th October, but if you're a stickler for getting this kind of thing right, it's technically supposed to happen at 2.00 a.m. on the 25th (the last Sunday in October).
RESUMPTION OF MOBILE LIBRARY SERVICE.
As part of Wiltshire Council's programme of restoring services (where possible) that had to be suspended following the start of the COVID-19 emergency, the Mobile Library Service will resume visits to Whiteparish as from Saturday 24th October 2020. This does not mean that we're out of the woods as far as the virus is concerned (in fact at the time of writing infections seem to be increasing again), but the library service have put protocols in place regarding distancing etc to protect customers and staff. To quote Cllr Ian Pilling, Wiltshire Council Cabinet Member for Libraries:

"Our libraries team has worked incredibly hard and in partnership with our volunteers to get the next set of libraries in Wiltshire reopen and get our much loved mobile library service back up and running.

Our library service has adapted so well throughout the pandemic and it's great to see people continually embrace what we've been able to offer. It's good to see the mobiles back on the road again, serving the rural areas of Wiltshire and the most vulnerable."

More details can be found at this link.
BEN FISHER MAKES FIRST-CLASS CRICKET DEBUT.
Congratulations to Whiteparish's Ben Fisher who recently joined the ranks of England's first-class cricketers by taking part in this year's Varsity match between Oxford and Cambridge universities, becoming an Oxford blue in the process. Currently a member of Calmore Sports Club, Ben had previously played for Whiteparish and South Wilts before going up to study biochemistry at Magdalen College, where he is now in his second year.
MEDICINE DELIVERY FOR VULNERABLE PATIENTS IN WHITEPARISH.
The team at Whiteparish Surgery and the Whiteparish C19 support group coordinators would like to express their thanks to all of the volunteers who came forward and delivered medicines to higher risk patients in Whiteparish during the COVID 19 lockdown. Over 30 volunteers came forward and in all 146 deliveries were made to 29 patients on 49 separate days. So a very good job by all concerned.

Going forward, for any patients who need help there will be alternative arrangements available via the national NHS Volunteer service. NHS volunteers website is https://volunteering.royalvoluntaryservice.org.uk/nhs-volunteer-responders and the phone number is 0808 196 3646. If in any difficulties, contact the surgery.
"PEOPLE-FRIENDLY SALISBURY" PROJECT.
Wiltshire Council has distributed a press release outlining its initial designs for what they describe as "the exciting and ambitious People Friendly Salisbury project . . . [which] . . . will help to transform the city of Salisbury, making it a more attractive place to visit, shop and work; and improving air quality.".

Due to problems we won't bore you with, this information unfortunately didn't find its way on to the website until after the day when the council required any comments to be submitted, so it's now too late to send in initial reactions to the initial designs. However, the project has been well publicised in other local media, and perhaps there might be further opportunities to comment on it in the future. To find out more about the project, including FAQs, click here.
RURAL CRIME IN WILTSHIRE UP BY 102%.
You may have caught this striking news item on local radio or other medis recently. According to claims statistics by county published by the NFU Mutual Insurance company in their Rural Crime Report 2020 titled "A Challenging Time for the Countryside," Wiltshire had the second biggest increase (102%) in rural crimes in 2019, compared with the previous year. Nationwide, " . . . for the second year running the sharp rise was driven by thefts of high-value tractors, quad bikes and other farm vehicles. Livestock theft also increased in 2019, with organised gangs taking large numbers of sheep, which are thought to be entering the food chain illegally."

To see the rest of the report, click here. (Of course there are other insurance companies, and mention of NFU Mutual here does not imply any endorsement.)


THINGS TO BE AWARE OF IF YOU VISIT THE NEW FOREST.
Of course, most of Whiteparish is within walking distance of the New Forest, and many of us know (or might claim to know) most of these "dos" and "don'ts" for when we go onto forest land. But here's a handy reminder, which could also be useful to visitors.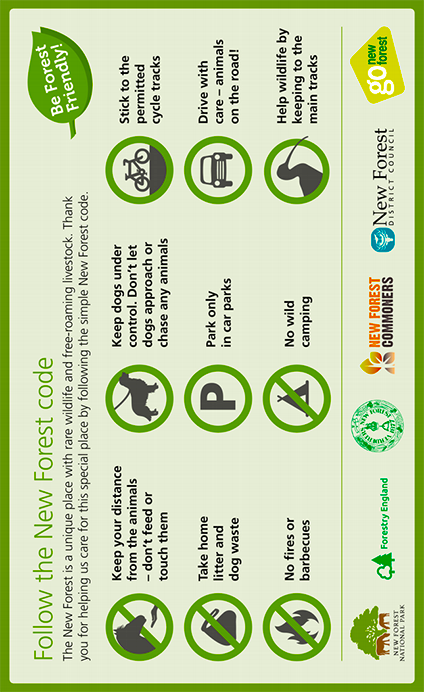 FAMILY AND COMMUNITY LEARNING.
Family and Community Learning is part of the workwiltshire initiative, and offers learners of all ages and backgrounds the opportunity to gain a new skill, reconnect with learning, prepare to progress to formal courses, or learn how to support their children better, via long term, planned programmes with clear progression pathways. Courses can lead to qualifications, employability skills, jobs and volunteering. For more information, click here.


RURAL COMMUNITY ENERGY FUND.
The Rural Community Energy Fund (RCEF) provides non-capital grant funding to help community organisations with the development of a renewable energy project. It is open to a wide range of community organisations, and the final round of funding has a deadline for applications of 14th September 2020. For more information, click here.


NEW NEIGHBOURHOOD WATCH CAMPAIGN.
Neighbourhood Watch are currently publicising their new "Safety in Neighbours" campaign aimed at helping prevent burglaries this summer. For more information, including free resources to use and share, click here.


SPATE OF CATALYTIC CONVERTER THEFTS IN SALISBURY AREA.
According to a NeighbourhoodAlert message there has been a recent outbreak of attempted thefts of catalytic converters in Salisbury and surrounding areas, including Redlynch. The thieves seem to have concentrated on converters from Honda's Jazz model, though other makes and models have been attacked. For police advice on protecting vehicles against this kind of crime, click here.


A27 TO BE AFFECTED BY A36 NIGHT-TIME CLOSURES: 27 JULY TO 15 AUGUST.
Highways England have notified the Parish Council of the following works, which will cause A36 traffic to be diverted onto the A27 (and through Whiteparish) on the dates and times specified below.

"We will be repairing and upgrading drainage on the A36 between Romsey Road roundabout and Shelley Lane, to improve capacity for increased annual rainfall. In order to carry out the works safely we will close the road in both directions between these points. Works will take place overnight when traffic flows are at their lowest. Please accept our apologies in advance for any disruption this may cause.
Start: 27 July 2020
End: 15 August 2020
Hours of work: 8pm to 6am, Monday to Friday.

Traffic Management
The A36 will be closed in both directions between Romsey Road roundabout and Shelley Lane. A signed diversion will be in place via the A3090 Romsey Road, with motorists following the A27 to Brickworth Road, where they will re-join the A36. Please note, Shelley Lane to Brickworth Road will remain open for access to local traffic.

We'll make every effort to ensure the impact on motorists and the local community is kept to a minimum. We always aim to work to the programme; however unforeseen circumstances or adverse weather may mean changes to it. We'll keep you updated of changes in the programme via advance roadside warning signs. For up-to-date information on all our closures, please follow us on Twitter at @HighwaysSWEST If you have any questions or comments about the work, or would like further information, please contact Highways England Customer Contact Centre (open 24/7) on 0300 123 5000 or by email at: info@highwaysengland.co.uk"
REMINDER TO REPORT SUSPICIOUS ACTIVITY/CONCERNS ABOUT THE VULNERABLE.
With the traditional holiday period now under way, a Community Messsaging alert from Wiltshire Police reminds us to be vigilant about any suspicious activities near or around properties whose owners may be away; also to let the police know about anybody who may be vulnerable to radicalisation.

To read the whole of quite a lengthy alert notice, click here.
TOP TIPS FOR SHOPPING ONLINE.
According to ActionFraud/NeighbourhoodAlert, almost 34% of all retail sales during May 2020 were carried out online, and new research suggests that only 16% of UK consumers intend to return to their old shopping habits post-lockdown. ActionFraud received over 16,000 reports relating to online shopping and auction fraud during the lockdown [presumably also up to the end of May?], only to have the items never arrive. with losses totalling over £16m.

Choosing where to shop: If you're making a purchase from a company or seller you don't know and trust, carry out some research first. For example, by checking to see if others have used the site and what their experience was.
Email accounts: Use a strong, separate password for your email account. Criminals can use your email to access other online accounts, such as those you use for online shopping.
Scam messages: Some of the emails or texts you receive about amazing offers may contain links to fake websites. Not all links are bad, but if you're unsure don't use the link, go separately to the website. And remember, if a deal looks too good to be true, it probably is.
Payment method: If you decide to go ahead with the purchase, use a credit card if you have one as other payment providers may not provide the same protection.

What to do if you've fallen victim to online shopping fraud
We all make mistakes, and these days the scams can be incredibly convincing. If you think you've visited, or made a purchase on, a bogus website, you should, first, take a note of the website's address, then close down your internet browser. You should then report the details to Action Fraud and contact your bank to seek advice.

Whether you've been a victim of fraud will depend on how much information you've provided to the website, so keep an eye on your bank transactions, if you can. Contact your bank immediately about anything that you don't recognise, even small amounts.

For more information about how to stay safe online, please visit www.actionfraud.police.uk/cybercrime
HEARTFELT THANKS TO OUR LOCAL HERO CHRIS MOORE.
The Trustees of Whiteparish Memorial Trust would like to pay tribute to Chris Moore who has tirelessly worked during the COVID-19 lockdown to remove litter from the Memorial Ground.

In the weeks since the June relaxation of the lockdown regulations, we have seen increasing amounts of litter around the Grounds, especially in the Skatepark and in the recently reopened children's play area. Chris has removed an astonishing 18 bags of litter, beer bottles and broken glass from the grounds.

We appeal to those who use and enjoy the grounds to PLEASE take their rubbish away with them. This will help ensure everyone's safety and not detract from the pleasant environment that Chris works so hard to maintain. Thank you again, Chris.

The Trustees of the Whiteparish Memorial Trust
CARER SUPPORT WILTSHIRE Seeks Fundraisers and Donors.
Carer Support Wiltshire, the charity that supports unpaid carers in Wiltshire, has launched a 'Time for Carers Appeal' to raise money that will allow carers to take a break. Carers often struggle to find time for themselves; for hobbies and to socialise with others. They may not be able to leave the person they look after on their own at home, or they feel guilty taking time to enjoy themselves. Many have been hit hard by the coronavirus pandemic as the closure of day centres and other groups have meant they are caring more than ever, in more difficult circumstances with little or no support.

Research shows that 40% of carers haven't taken a day off from their caring role in over a year. Yet taking regular breaks has been shown to be the most effective way to reduce feelings of loneliness and isolation and promote good mental health. Previous appeals have enabled all sorts of breaks, by providing cinema memberships, climbing sessions, spa days and counselling sessions. It has also been used to pay for respite care.

So Carer Support Wiltshire are looking for individuals, businesses and local groups to help to raise funds for the appeal or to donate. For more information, click here.



TOP TIPS TO AVOID BEING SCAMMED ON SOCIAL MEDIA.
You're probably familiar with some of the ways in which fraudsters approach and attempt to lure in their victims, such as emails, texts, phone calls, letters and traditional doorstep scams. But did you know that social media is also a favourite place for scammers? With billions of people using social media every day and the trust many place in the platform and in fellow users, it shouldn't come as a surprise. Plus, at the moment, most of us have a lot on our minds; so it could be easy to drop our guard.

For some recent advice from Neighbourhoodalert on precautions to take and things to avoid, click here.
LINK VOLUNTEERS NEEDED.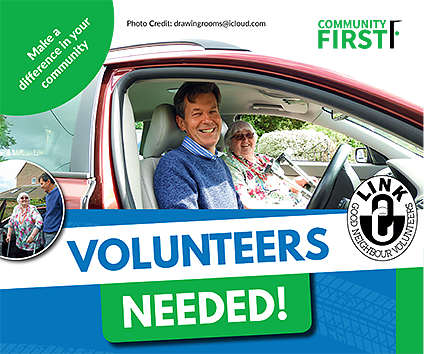 Your local Link Scheme needs you! Demand for the service is growing and we urgently need new volunteers to support the service. Your mileage will be paid. If you could spare some time, or for more information, please contact us on 01380 722241; or email linkproject@communityfirst.org.uk.
NEIGHBOURHOOD WATCH E-NEWSLETTER.
If anyone would like to find out more about Neighbourhood Watch, and see a sample issue of their "Our News" e-newsletter (this one is for July 2020), click here.
VIEWS SOUGHT ON REOPENING WILTS LIBRARY SERVICES SAFELY.
Wiltshire Council is seeking the views of residents and library users to help with its planning for reopening library services safely in the county during the COVID-19 pandemic.

Wiltshire Library Services were temporarily closed due to the COVID-19 pandemic on 20 March 2020. The existing eBooks, eMagazines and eAudio service continued providing access to reading material, and on 27 March a new service launched via Facebook offering rhyme times, tea and chat, bedtime stories and online book groups. At the start of June, a Home Library service was launched, serving library members shielding and without digital access to download books; this service is currently used by approximately 100 people. The online library content produced since lockdown has so far generated more than 83,000 views.

To make sure the library services they provide meet the needs of people safely and are as innovative in their delivery as possible, the council would like to hear the ideas and feedback from the public on how to reopen the services . . .

To read in full the Council's press release on this subject, click here.
"YOUNG WORK WILTSHIRE" Service.
A new service has been launched that aims to support 16- and 17-year-olds who are not in education, employment or training (NEET).

Three dedicated Education, Employment Advisers will be getting alongside our young people to help them access opportunities to help them towards successful working lives. These young people may face multiple barriers preventing them from participating in EET and need a different type of support. For some young people support is provided by other Local Authority Teams, specifically the SEND service for young people with an Education, Health and Care Plan (EHCP) and those working with the Youth Offending Team (YOT).

Young Work Wiltshire can provide one-to-one support for young people who need help to find the right opportunity for them. This is currently provided over the phone and online, but eventually we hope to do some face-to-face/outreach support.

This support includes:
Engaging a young person in understanding the provision available.
Finding and applying for a suitable education or training course.
Finding and applying for an apprenticeship.
Support in transitioning to the new opportunity.
Tracking & reducing the number of young people without a known post-16 destination.
For more information about the aims of Young Work Wiltshire, click here. For a downloadable poster/flyer, click here. For a "Hot Opportunites" e-Bulletin introducing the Young Work Wiltshire team and other useful information and links, click here.

You can also contact the team by:
Phone: 01225 716890
Email: workwilts@wiltshire.gov.uk

Young people can register by completing an online form on the website
https://workwiltshire.co.uk/young/
STAG BEETLE SEASON.
Well it's nice to write about something other than coronavirus for a change! You might have seen a recent episode of BBC's Springwatch programme where Chris Packham opened the show by wandering about holding an impressively large male stag beetle. May/June/July is the season when we are most likely to see them, typically from late afternoon to dusk. If you're lucky, you might see one in flight, when they can look a bit out of control. But as Chris P emphasised, these magnificent beasties are quite harmless. The "antlers" from which they get their name (though they are actually modified mandibles) are used by the males mostly for wrestling with other males and presumably to impress lady stag beetles.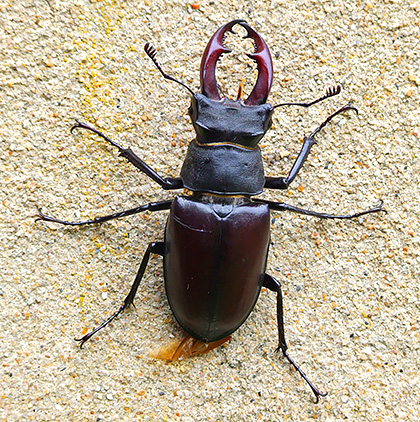 The photo is of a male resting on our coalshed wall in 2008 (females have much smaller antlers). After that we had no more sightings until this year (2020), when apart from seeing one or two in flight, we also keep finding odd bits of stag beetle (mostly heads and thoraxes) on the lawn, presumably left over from stag-beetle suppers that had been enjoyed by maybe a fox or a magpie. Other stag-beetle predators mentioned on the web include mice, hedgehogs, badgers, and shrews.

Stag beetles are a "priority species" in the UK, listed in Schedule 5 of the Wildlife and Countryside Act 1981, with population density varying across the country. Whiteparish is on the front line between a relatively dense population in Hampshire with 1362 sightings recorded in a 2018 survey (thanks largely to the New Forest, where there is plenty of rotting wood for the beetle larvae to feed on); and Wiltshire (with different terrain, and just 9 sightings in the same survey). For more information about the survey, and stag beetles in general, without getting too deeply into the entomology, click here.
GETTING BACK BEHIND THE WHEEL.
If Covid-19 has kept you off the road recently and you're going to need to resume driving (or driving further) soon, Dorset & Wiltshire Fire and Rescue's "Back on the road" leaflet may be just what you need. As its introduction says:

"If you've been working from home with the odd trip to the shops or to care for a vulnerable loved one, the chances are you may feel a little nervous getting back on the road. Your vehicle may also need a little more TLC than usual, especially if it's a second family vehicle you may have on the drive, your young driver's run-around, or a fleet vehicle you have access to at work. We have all seen and heard an increase in traffic on our roads in recent weeks as lockdown restrictions have eased. Whether you are returning to the roads for work, for the school run, to reconnect with family and friends, or for any other reason, we have written this digital leaflet to help keep you as safe as possible.".
CORONAVIRUS-RELATED SCAMS: PROTECTING YOURSELF
A recent alert from Neighbourhood Alert and ActionFraud (dated 16th June 2020) says that to date the latter had received reports from 2,378 victims of Coronavirus-related scams, with total losses reaching over £7 million.

In addition to general advice about watching out for scam messages, shopping online, and unsolicited calls and browser pop-ups that offer you tech support, the alert provides specific advice about dealing with scammers who pretend to be calling on behalf of the NHS Test and Trace service, with a list of things that the service will never do. To see the alert in full, click here.
NEWS FROM MEMORIAL TRUSTEES
At the time of writing, due to the current COVID19 lockdown, the Memorial Centre, the Children's Play Area and the Skatepark are all closed. [Mote: Skatepark is now open.] The Memorial Ground itself is open for villagers to use for relaxation and exercise provided the social distancing regulations and guidance published by the Government are observed. The Multi Use Games Area (MUGA) has recently been reopened for Tennis only, subject to users observing the social distancing regulations and guidance.

The Trustees have agreed that the Annual General Meeting scheduled for June 6th will be postponed. We hope to reschedule this for later in the year, possibly in the autumn, in the hope that the current social distancing measures have been relaxed by then.

If this is not the case the Trustees will consider alternatives such as cancelling the AGM for 2020 or holding a video-enabled meeting (Zoom, Skype etc.). Regular Trust meetings have been suspended, Trustees are communicating via email, we will consider resuming management meetings as and when required and allowed.

For the whole of the Chairman's interim report for the Trust year 2019–2020, click here.
WHITEPARISH 100+ Club: Support your Village facilities whilst winning cash prizes!
It is that time of the year again for existing club members to renew your club numbers and an opportunity for new members to join this Club to raise vital funds to maintain the village facilities on the Memorial Ground—specifically the children's playground, the MUGA (multi user games area) and the Memorial Centre.

Club members participate in the Club Lottery with a monthly prize fund of £90 as well as the special Christmas draw with prizes of £300. Over £2,300 was raised from the lottery last year.

Participation in the lottery starts at just £15 for one entry into each of the 13 draws. You can buy as many ticket numbers as you wish. Please consider helping to fund our village amenities in this way—the Memorial Centre, MUGA and playground receive no help from Wiltshire Council.

If you are already a member and are one of the 70% + who completed a standing order, then you don't need to do anything. Your standing order should go through in June and your number(s) will continue for another year. If you would like an additional number(s) then please contact Richard below.

If you are a member not paying by standing order, then you will receive a renewal invitation letter shortly—please follow the instructions in the letter. If you have not received a letter or lost it then please contact Richard/Mike below. If we have your email address, then the letter will be emailed to you—PLEASE GIVE US YOUR EMAIL ADDRESS IF YOU'VE NOT DONE SO and remember to tell us if your email or home address changes.

Our contact details:
Richard Burr: richardjburr@gmail.com, telephone 884002
or
Mike Hayday: mike.hayday@btinternet.com, telephone 884110.
MORE ABOUT HOUSEHOLD RECYCLING CENTRES REOPENING.
PLEASE NOTE: The graphics that were previously included here under the same heading are now out of date. For the latest information, see these FAQs on the Wilts Council website.
HOUSEHOLD RECYCLING CENTRES REOPEN FROM 18 MAY.
Welcome news from Wiltshire Council: "Most of our 10 household recycling centres (HRCs) will reopen for essential waste only from Monday 18 May. Due to the limits on the number of vehicles on site, Stanton St Quintin HRC will remain closed until further notice. All other HRCs will have different opening hours from usual, so please check before you travel. Full details on opening times will be available later this week.

Residents should only travel to HRCs to dispose of waste that cannot be stored safely at home without causing risk of injury, health or harm. Social distancing measures will be in place at all sites. "
Source: Wiltshire News e-bulletin dated 12 May 2020.
SALISBURY AREA EVENT CANCELLATIONS.
The following events planned for the next few months in South Wilts and nearby areas are either cancelled or postponed due to precautions to prevent the spreading of Covid-19 infections. We're sorry we can't include the originally scheduled dates, but if you had one of these in your diary, you'll know!

Downton Cuckoo Fair
Victory in Europe Day celebrations
Salisbury Schools Mini Marathon
Fabulous Family Fun Day
Salisbury International Arts Festival
Amesbury Carnival
The Vintage Nostalgia Festival - Moved to August 14 to 16
Five Rivers Festival
Chalke Valley History Festival
Larmer Tree Festival
St. George's Day celebrations
The Five Valleys Motorcycle Run
Salisbury Charter Market
Evening at Salisbury Racecourse with Scott Mills
Fordingbridge Festival
New Forest and Hampshire County Show
Frogham Fair
ReCreate Festival
Salisbury Car Fest
Salisbury Pride - Moved to September 26
BRICKLIVE at Salisbury Museum
Weekly Parkrun
Salisbury Live - Anniversary event now scheduled for August 28 to 30, and 'Live @ The Farm' for September 19
Salisbury Street Food Monday
Salisbury Race for Life - Moved to August 16

(Source: Salisbury Journal website, 2 May 2020)
THANK YOU FROM THE WHITEPARISH FIRST RESPONDERS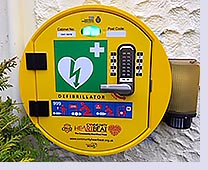 As some of you may have been aware, the village Community Public Access Defibrillator (cPAD) housed at the Parish Lantern was reaching the end of its serviceable life and needed replacing. THANK YOU to the many villagers and businesses for their donations, and to everyone taking part in the recent Quiz fundraiser.

The funds raised enabled us to purchase a new cPAD and a shiny new cabinet to house it in. This is now all up and running, linked to the ambulance service and available as a valuable village resource 24/7 in the event of a medical emergency. In such an event, the cPAD will be activated by the ambulance service during a 999 call, when full instructions will be provided. The new cPAD is the latest model and comes with a service contract ensuring it is maintained in the years to come.

Our THANKS to Paul & Lorraine for kindly continuing to host the box on the wall at the Parish Lantern (we will be back supporting the pub as soon as the current difficult circumstances are behind us), to Martin, Mel & Ben Fisher for the massively successful quiz evening, and to Kev Edwards our local electrician, for kindly ensuring the new cabinet was fitted and wired in with the lighting and heater to keep the cPAD cabinet heated in cooler weather.

As ever we hope the cPAD is never needed to be activated, but great for the village to know it is there if needed.

Wishing you all well, and stay safe.
SCAM WARNING ABOUT COLD CALLS
More from Neighbourhoodalert, this time warning about scams via your phone.

Scams over the phone are nothing new, but, in the current climate, they are being adapted. Criminals are exploiting the need to keep ourselves safe and take protective measures during the COVID19 pandemic so are reinventing their scams to use Coronavirus as a hook. Any unsolicited phone calls should be treated with extreme caution, and if they're asking for payment details it's highly likely to be a scam.

Face masks, hand sanitiser and other protective products are in high demand, and fraudsters know this. We've also seen lots of activity online with many offering these products to lure people in but the true reality is that they don't have these products and never will do; it's all a scam.

If you are looking to purchase these items, don't panic or rush. Do your research into who you are buying from and look for reviews, this can help determine whether it's a legitimate company or not. Most importantly though, never give payment or personal details during any unsolicited calls, emails or text messages. If you think that you may have done, contact your bank immediately, change any passwords you may have divulged and report the incident to Action Fraud on 0300 123 2040 or online at www.actionfraud.police.uk.
PANDEMIC-LINKED CRIMES IN WILTSHIRE, APRIL 13 to 19.
Another message from Neighbourhoodalert reports that between the 13th and 19th of April, 2020, Wiltshire Police:
– Recorded 58 incidents linked to COVID19.
– Recorded 6 crimes linked to COVID19.
– Issued 47 Fixed Penalty Notices.
– Made 4 arrests linked to breaches in the COVID19 national guidelines.

Assistant Chief Constable Mark Cooper, who was on-call over the weekend, said: "The vast majority of people within our communities are adhering to the Government guidance which is in place to save lives. We are focusing on engaging with people in our city, towns and villages – ensuring they are aware of the restrictions. Only when absolutely required have we enforced these rules by issuing fines. To date, we've issued around 130 fines since the new policing powers came into effect which clearly represents a tiny percentage of our total population here in Wiltshire.

We know people are starting to feel fatigued by the restrictions and by social distancing but we have to remember the fundamental reasons we are doing this—to slow the spread of the virus, protect the NHS and save lives. Over this past weekend, we saw relatively low numbers of crimes being committed and people not adhering to the current restrictions. On behalf of Wiltshire Police, I would like to thank each and every person who is staying at home, protecting the NHS and saving lives for the part they are playing in the national effort to tackle this unprecedented public health emergency."

Police and Crime Commissioner for Wiltshire and Swindon Angus Macpherson said: "Once again, I have been pleased to see relatively small numbers of fines being issued and arrests made. On the whole, people are acting in a responsible and respectful way by adhering to the restrictions which are in place to save lives. As we continue through the next few weeks, I know we can count on the vast majority of people in our communities to carry on doing the right thing and only leaving their homes when essential to do so. We all have a role to play in the fight against this infection. We must all continue to adhere to the very latest advice from the Government—this is about saving lives.

The latest guidance can be found at www.gov.uk"
ONLINE SCAMMERS CAPITALISE ON CORONAVIRUS PANDEMIC.
A message from Neighbourhoodalert warns us that the Coronavirus/Covid-19 pandemic, and the natural anxieties that people are experiencing about it, provide new opportunities for the criminal fraternity to exploit via phishing emails, websites, and text messages designed to scam us out of large sums of money and sensitive information. Neighbourhoodalert urges the public when online to remember a three-part plan:
STOP and think a moment before parting with any money or information.
CHALLENGE the origin of your email, text or website. Could it be fake? Check with the sender using another method of communication.
PROTECT yourself with added security measures where possible and report anything suspicious to your bank (or other financial institution) or Action Fraud (0300 123 2040).

Reports from the public have included online shopping scams where people have ordered protective face masks, hand sanitiser and other items which have never arrived, and offers of testing kits that have turned out to be fake. Criminals are sometimes using Government branding to try to scam people, including false offers of financial support through unsolicited emails, phone calls and text messages. In reality, the Government has only sent one text message to the public regarding new rules about staying at home to prevent the spread of COVID-19. Any others claiming to be from UK Government are false.

Since the virus took a hold in the UK there have been more than 100 victims of Coronavirus related fraud, with losses of almost £1m already recorded. So don't get conned. Stop, Challenge, and Protect!
DON'T FORGET "Spring Forward!".
British Summer Time starts on Sunday the 29th March, 2020. So don't forget to set your clocks one hour forwards before retiring for the night on Saturday 28th March. (Unless it's a clever clock that does that sort of thing for itself, of course!)
INITIATIVE TO AVOID RIGHTS OF WAY BEING LOST.
According to Southern Wiltshire's "Our Community Matters" email bulletin for 14 February 2020, it's been estimated that there may be 10,000 miles of rights of way over historic paths that could be lost forever unless they can be identified and mapped. The Ramblers (formerly known as "The Ramblers' Association") are hoping to build a movement of "citizen geographers" to help find all these missing rights of way before it's too late, via a new "Don't Lose Your Way" online mapping site they have just launched. For more information, click here.
RECYCLING COLLECTION DAY AND SYSTEM CHANGES.
Wiltshire Council claim that they will soon be making it even easier for us to use their kerbside recycling collection service. The way in which recyclable materials are collected will change and this means that for many of us our collection day will change. The council will be informing all households of any collection-day changes by letter at the end of February. Also, we will be able to put more materials in our blue-lidded bins. For more information, click here.
WHITEPARISH SWAB MEETING TO DISCUSS ANTISOCIAL BEHAVIOUR.
The next meeting of the Southern Wiltshire Area Board (SWAB)—on the evening of 30th January 2020—will be in the Whiteparish Memorial Hall, where a headline topic will be "Tackling antisocial behaviour in the villages of Southern Wiltshire". Click here to view the relevant poster. For a link to the agenda, click here.
2019 WINTER BALL.
The Whiteparish Memorial Trust were delighted to be able to announce that the fourth annnual Winter Ball (held on 30th November, 2019) raised over £3000!

The money raised will be used to make improvements to the Memorial Centre and grounds. A programme of redecoration has already been completed in The Cowesfield Room and Entrance Hall. This work will continue around the Centre. The Memorial Trust also continues to make improvements and carry out essential maintenance on the Play Area and MUGA.

The Trust would like to thank everyone in the village who contributed and gave items to the wonderful hampers for the raffle which raised, in itself, almost £800! The Winter Ball has become a very successful and popular event, raising vital funds for the Memorial Centre.
KERBSIDE COLLECTIONS DURING XMAS/NEW YEAR.
The normal Friday Black Box & Blue Bin collection will take place on Friday 20th December. The next collection of any kind will be another Black Box & Blue Bin collection on MONDAY 6th January, with a Waste Collection (Black Bin) on SATURDAY 11th January. After that the rota returns to the normal pattern of alternating Fridays, starting with a Black Box & Blue Bin collection on Friday 17th January.
CAT RUN OVER IN THE STREET.
We have been asked to publicise that a cat was run over on the road directly opposite Abbotstone House this afternoon (on Thursday 28th November). It was a small, possibly female, brindle cat. If you or a neighbour has lost a cat of that description, please contact Sue Jones on 01794-884362.
DEADLINE PASSED FOR REGISTERING TO VOTE IN THE GENERAL ELECTION
If you were not already on the Electoral Register by Tuesday 26th November, you won't be able to vote in the 12th December General Election. However, if you're over 16 years old and meet one or two other requirements, why not register anyway? Once you're on the register, you won't need to register again, and you'll be all set to vote in any applicable elections or referendums from now on—apparently it only takes about five minutes to register online. For more information, go to this link: https://www.gov.uk/register-to-vote.
"MEET THE CANDIDATES" (in the Journal).
If you haven't already decided who will get your vote in the forthcoming General Election, the 14th November issue of the Salisbury Journal has a handy "Meet the Candidates" feature on page 14 giving names, parties, photos and a few paragraphs about each of them. We don't often get political on the website—to tell the truth, we hardly ever get even a teeny bit political. But this one's important. Choose well.
2019 FIREWORKS, 9th November.
Despite initially unpromising weather, this year's Fireworks Display, kindly staged and sponsored by Pains Fireworks, for the benefit of Whiteparish All Saints School, took place in dry conditions and was thoroughly enjoyed by a substantial audience in the fields behind the Parish Lantern. For more information click here, and for a photo gallery click here.
WARNING ABOUT DOMESTIC GARAGE THEFTS.
NeighbourhoodAlert has circulated a warning about a current outbreak of garage thefts (though the alert doesn't specify whether the outbreak in question is local or national.) Whichever, a near neighbour of ours unfortunately suffered a garage break-in during the same week that the alert was distributed, so it seems this kind of thieving is definitely happening in the Whiteparish area at the moment. The alert includes some precautions you can take to safeguard equipment in garages; click here to view it.
TEMPORARY CLOSURE OF A36 SALISBURY ROAD.
The following alert has just been distributed by neighbourhoodalert.co.uk, timestamped 17.34 on 1st November 2019:

"We have closed the A36 Salisbury Road to motorists in both directions to safely carry out urgent repairs to our gas network. Salisbury Road is now shut between its junction with A27 at Whiteparish and Romsey Road at Ower. Signed diversions are in place for traffic in both directions. Southbound motorists will be diverted via the A27 through Whiteparish. Northbound motorists will be diverted via A3090 Romsey Road. We're working as quickly and safely as possible to make this repair, but expect this work and our closure to last into the weekend."
Message Sent By Ben Tarrant-Lewis (SGN, Incident Support, sou)
DARTS LEAGUE LOOKING FOR CAUSES TO DONATE TO.
Nathan, the secretary of the Whiteparish & Downton Charity Darts League, has asked us to publicise the fact that the league is looking for local worthy causes to which the league could donate some money they have collected. (If you apply, no doubt Nathan will provide further details about any conditions that applied re eligibility, etc.) If you or your organisation would like to be considered, please email dwartsleague@gmail.com, or for more information about the league see their facebook page.
COUNCIL LAUNCHES NEW E-NEWSLETTER.
A new "e-newsletter" from Wiltshire Council came thudding onto our electronic doormat (and quite likely yours as well) on the 28th October, promising to provide "news and information about the services we provide and things happening across Wiltshire. It will be issued fortnightly, but in addition you can opt to receive information about specific topics and areas of interest to you by completing the preference form." If you haven't received your own copy of the e-newsletter yet (there's no indication of how widely it is being distributed), you can see this first issue by clicking here.
HALLOWEEN TIPS AND POSTER
The same e-newsletter just mentioned includes some tips for staying safe at Halloween, and a link to a downloadable poster that you can display if you would rather not be trick-or-treated. To quote the e-newsletter:

"Not taking part in Halloween?
If you don't want to be bothered by trick or treaters this Halloween, you can print off our "No trick or treaters" poster, and place it in the front door or window of your home. Click here to download the poster.
Please respect those that have chosen not to take part in Halloween by not calling at houses displaying this poster. While lots of people enjoy trick or treating, some people—particularly the elderly or vulnerable—might be distressed by seeing strangers knocking at their door."
MOVING TO WHITEPARISH 50-plus YEARS AGO.
We are grateful to Richard Stevens for sending us this light-hearted account of some of his impressions of Whiteparish after moving here over fifty years ago. We hope soon to add contemporary pictures of some of the characters mentioned.
TEMPORARY CLOSURE OF A27 THROUGH VILLAGE, 3 & 4 OCTOBER 2019.
Wiltshire Council have given notice that the A27 will be closed to all traffic from Brickworth Cottage eastward for about 1,705 metres between the hours of 09:00 and 16:00 on the two above days to enable work on the carriageway, etc. For a more detailed description, including a telephone number for further information, click here. For a plan showing the affected section of the A27, with diversions, click here.
2019 FETE PHOTOS.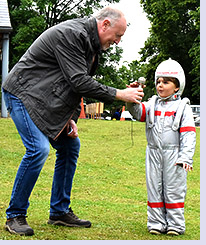 Hopefully better late than never, some photos taken at the 2019 Whiteparish Fete (15th June) have finally found their way into the website's Galleries section; and you can see them by clicking here. This one shows joint MC Richard Maryon (he shared duties with Phil Brown) passing the microphone to spaceman Rory who made an excellent job of officially opening the fete. Glancing through the gallery you might get the impression that the fete was not very well attended, but this is because, due to time constraints, most of the photos in the gallery had to be taken during the first hour or so, before the rain stopped and before the more cautious fete-goers had arrived. (And there wasn't time to photograph everything, as we've tried to do in most previous years.)

However, and despite the weather, overall attendance was probably almost as high as in 2018 (when we had enjoyed warm sunshine throughout), with almost as much (£7,976.90) being raised for the good causes that benefited. We hope to add a few snaps taken at the Bands Night, soon.
GARDEN CLUB's ENJOYABLE SUMMER SHOW.
The Annual Garden & Hobbies Show was held in the Memorial Hall on 17th August, and enjoyed by competitors and spectators alike—many attendees being both, of course—with numbers well up on the previous year. The heavy overnight rain that preceded it must have presented problems for both organisers and competitors, though after that the day itself was both warm and dry. For a short report and a list of some of the award winners, see the Garden Club page; and for a fine set of photos kindly contributed by Keith Hobbs, see the website's Galleries section.
NEW AERIAL VIEW OF VILLAGE
It had been a while since we last received any aerial views of Whiteparish, but Michael Thorne recently sent us one captured in July from a glider. It joins earlier photos in the Galleries section from other contributors that were taken in 2005, 2006, and 2008 (two from light aircraft and one from a balloon, respectively). Together they make an interesting record of how the village changes over time. Click here to see the new photo.
CONSULTATION ON SALISBURY CENTRAL AREA FRAMEWORK.
Wiltshire Council are consulting on developing proposals for "an exciting future for Salisbury", which they're calling the Salisbury Central Area Framework. This consultation will inform development proposals for the city centre and they're asking for your feedback on what you'd like the city centre to look like in the future.

"When completed," (to quote the press release) "the Salisbury Central Area Framework will set out a strategy that will be deliverable and will bring positive change to create a more vibrant city centre. As part of this, we want to ensure that the traditional aspects of heritage, green space and community are enhanced and encouraged. The Salisbury Central Area Framework will build upon previous consultations and bring together many different projects and initiatives under one single document. This will form an important part of the evidence base to inform the emerging Wiltshire Local Plan Review and Salisbury Neighbourhood Plan."

Paper copies of consultation documents about the framework, and response forms, are available during normal opening hours from local libraries including the Salisbury Library, and from the Wiltshire Council offices at Bourne Hill. Comments about the framework can be made until 5.00 pm on Friday the 9th August, either online at the Council's Consultation Portal, by email to FutureSalisbury@wiltshire.gov.uk, or by visiting one of the venues already mentioned and filling out a paper survey form that can be sent by post to Major Projects, Wiltshire Council, The Council House, Bourne Hill, Salisbury, SP1 3UZ.
WILTSHIRE NEIGHBOURHOOD WATCH AGM—13TH JULY.
Wiltshire Neighbourhood Watch will be holding their Annual General Meeting on Saturday 13th July 2019, from 10:30am until 12:30pm, in The Bay Window Room at Wiltshire Police Headquarters, London Road, Devizes, Wiltshire, SN10 2DN.

The guest speaker will be Chief Constable Kier Pritchard, who will be giving a talk on Modern-Day Slavery. The complete agenda can be seen on the Wilts Neighbourhood Watch website: click here. All Neighbourhood Watch Members and all interested parties are very welcome to join us.
STOP PRESS: A27 RESURFACING SLIPS AGAIN?
According to signs very recently erected alongside the A27 at the Eastern side of the village, the resurfacing work referred to in the next story will now start on the 17th June. So hopefully the work will not impact traffic or parking at all for the Hog Roast/Bands Night (evening of 14th June) or Village Fete (15th June).
START DATE FOR A27 RESURFACING SLIPS.
Simon Price, the "consultant representative" for Wiltshire Council in connection with the A27 resurfacing work during Fete Week, has written to the Parish Council as follows:
"As consultant representative for Wiltshire Council, I write to inform you of an amendment to the carriageway resurfacing works programmed along the A27 Romsey Road, Whiteparish. Unfortunately the Contractors have required to postpone the works by a day, due to delays at another site. The works will now commence on 13th June. Additionally the works will now be undertaken between the hours of 09:00 and 15:45, to allow the school bus access.

I would like to take this opportunity to apologise for any inconvenience this movement of the programme will cause but trust you will appreciate the necessity for these essential works to maintain Wiltshire's highway network. Should you require any further information please do not hesitate to contact me on the details shown below [tel 01225 730 381]. If you wish to discuss the works whilst they are in operation, please speak to a member of the workforce who will direct you to the appropriate person."
100+ CLUB: Support your Village facilities whilst winning cash prizes!
With the end of the Club year fast approaching it is time to renew your numbers and an opportunity for new members to join this Club to raise vital funds to maintain the village facilities on the Memorial Ground—specifically the children's playground, the MUGA (multi user games area) and the Memorial Centre.

Club members participate in the Club Lottery with a monthly prize fund of up to £100 as well as the special Christmas draw with prizes of £300. Over £2,200 was raised from the lottery last year including £500 from the Christmas party. Participation in the lottery starts at just £15 for one entry into each of the 13 draws. You can buy as many ticket numbers as you wish. We will shortly be delivering a leaflet through your door with details of how to join or increase your membership. Please consider helping to fund our village amenities in this way—the Memorial Centre, MUGA and playground receive no help from Wiltshire Council.

If you are already a member and are one of the 50+% who completed a standing order then you don't need to do anything. Your standing order should go through on 15th June and your number(s) will continue for another year. If you would like an additional number(s) then please contact Richard below.

If you are a member not paying by standing order then you will receive a renewal invitation letter shortly—please follow the instructions in the letter. If you have not received a letter or lost it then please contact Richard/Mike below. If we have your email address then the letter will be emailed to you—PLEASE GIVE US YOUR EMAIL ADDRESS IF YOU'VE NOT DONE SO and remember to tell us if your email or home address changes. Finally, if all else fails then come and see us at our table at the Village Fete on 15th June and we'll get your membership up and running.

Our contact details:
Richard Burr richardjburr@gmail.com telephone 01794 884002 or
Mike Hayday mike.hayday@btinternet.com telephone 01794 884110.
HMRC SCAM ALERT.
Wiltshire Police have issued the following alert via the Action Fraud Community Messaging service:

"We are receiving lots of calls from people who have received letters from someone purporting to be from HMRC with a demand for money. A phone number is provided to call, which will connect to Wiltshire Police so appears genuine. This is a scam, and people receiving these letters should be aware that Wiltshire Police will only provide the 101 number for members of the public to make contact in these circumstances. Do not call the number in the message nor attempt to make contact with the sender.

If you have received one of these letters there is no need to call Police, but we would encourage you to report it to Action Fraud on 0300 123 2040 or online at https://www.actionfraud.police.uk/ as a phishing scam. You can find more information and advice here."
MALTINGS & CENTRAL CAR PARK MASTERPLAN.
As many will already know, Wiltshire Council is working on a "masterplan" for The Maltings and Central Car Park, Salisbury, which is being prepared to guide the redevelopment of the site. As part of this exercise (writes their Major Projects dept), "in order to ensure that the public have a meaningful input into the production of the masterplan, the Council are carrying out a public consultation on a draft masterplan that has been prepared," which was made available in mid-April 2019 via the Council's Consultation Portal, while paper copies are available during normal opening hours at local libraries and at the Bourne Hill council offices in Salisbury. The period available for comments ends at 5.00 pm on Friday 24th May 2019.

Comments can be made: online via Wiltshire Council's Consultation Portal; by email to majorprojects@wiltshire.gov.uk; or by post in writing to: Major Projects, Wiltshire Council, The Council House, Bourne Hill, Salisbury, SP1 3UZ.

All comments received during the consultation period will be taken into consideration before the masterplan is finalised and presented to the Council's Strategic Planning Committee for endorsement.

Should you require further information on the consultation, please email: majorprojects@wiltshire.gov.uk, or telephone 01722 434354.
BUSINESSES LIST FORM BROKEN.
We must apologise to anyone who has tried to send in a new entry for the website's list of Whiteparish-based businesses recently. The hosting company we use has made some kind of change at their end that has stopped the submission form working—and we thank those who brought this to our attention. We're trying to get to the bottom of this problem and fix it ASAP, but in the meantime we can add new entries or update old ones "manually". Send us an email to feedback@whiteparish.co.uk (that's not a link, you'll need to copy and paste it), providing the same information that's asked for on the form. Please note though that the business listing facility is available only to people who live in, or whose business is based in, Whiteparish itself—that is, within the parish boundary..
RUBBISH & RECYCLING COLLECTIONS OVER EASTER
At the time of writing, Wiltshire Council's online calendar of Rubbish and Recycling collections is out of action, but the relevant web page has this notice: "Please note there is no change to collection days over the Easter period." So there will be a rubbish collection as usual on Friday 19th April 2019 (Good Friday).
SWAB TO MEET IN WHITEPARISH, May 1st.
The Southern Wiltshire Area Board (SWAB) will be holding one of their regular meetings in Whiteparish's Memorial Centre on the first of May 2019, starting (or doors opening—not sure which) at 7.00 pm.. These meetings are open to the public, so why not come along and hear more about what this body gets up to? (SWAB was brought into being in 2009 when the much-missed Salisbury District Council was done away with, its former responsibilities were gobbled up by Wiltshire Council, and a complete layer of local democracy disappeared.)

One item on the agenda which may well be of interest is entitled "The do's and don'ts of using southern Wiltshire's rights of way, which will include up-to-date information regarding landowner and user rights and responsibilities in southern Wiltshire; the opportunity to raise your queries and concerns about rights of way and permissive paths in your village; and hear about Grimstead's Circular Walks initiative. There will also be the opportunity to have your say on new proposals to fund youth activities for 2019/2020 in Southern Wiltshire.
WILTS P & C COMMISSIONER STANDING DOWN.
Angus Macpherson, Police and Crime Commissioner for Wiltshire and Swindon, has decided not to stand for re-election to the post of PCC in 2020. The position of an elective PCC was created to replace Police Authorities in 2012. Mr Macpherson, who served as a magistrate member on the local Police Authority for seven years prior to the change, was elected as Wiltshire and Swindon's PCC in 2012 and then re-elected in 2016. He will be stepping down from the position in May 2020 once a new PCC has been chosen by the public.

For more information, see this Community Messaging item.
RECORD AUDIENCE FOR BOHEMIAN RHAPSODY.
The enthusiastic volunteers who run Whiteparish's "Parish Pictures" were delighted when their 6th April showing of Bohemian Rhapsody attracted a full house of 80 keen movie-goers (or Queen fans—or both) on a drizzly Saturday night. This was by far the biggest attendance yet for one of their popular movie evenings, and we noticed a fair sprinkling of folk from surrounding villages in the audience. Perhaps we can look forward to further offerings in the same genre?

These Saturday-night picture shows are not just good fun and of commendably high quality but it's all in a good cause, because as described on the website's Parish Pictures page, "surplus funds may be used for improvements to our presentations and for donations to local charities". After the show, Parish Pictures's John Herrett told us "It's very rewarding for us to get that sort of turnout, and I hope that it will translate into more customers for the less well-known films too".
SECOND WRITING AWARD FOR FORMER WHITEPARISH MAN.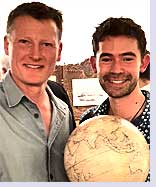 Following his recent award as "Young Writer of the Year" for 2018 (as we reported earlier), Adam Weymouth (on the right in the photo, holding his trophy), son of Whiteparish residents Keith and Sally Weymouth, has now also won the Lonely Planet Adventure Travel Book of the Year (2019) award for his book Kings of the Yukon (published by Particular Books). The Lonely Planet Adventure Travel Award is one of a number of travel writing awards in various categories that are sponsored by Edward Stanford Ltd.
£3 MILLION LOST BY PET FRAUD VICTIMS..
A notice from Action Fraud warns that fraudsters are posting advertisements for non-existent animals and pet accessories online. Action Fraud have received thousands of reports with victims reporting a total loss of over £3 million. For more information, click here.
HELP SUPPORT THE MEMORIAL GROUND TRUST.
The Whiteparish Memorial Ground Trustees have asked us to bring to your attention a way of supporting this local charitable trust at no cost whatever to yourself, as long as you are an Amazon customer. For more information, click here.
CYCLING EVENT ROUTE INCLUDES WHITEPARISH.
On 30th March 2019, a cycling event with a title something like "the Wiggle New Forest Sportive 2019" will be passing through Whiteparish, taking in the A27 (Romsey Rd), The Green, Dean Lane, and Ashmore Lane. Exactly when the bulk of the participants will go through the village is difficult to say, but we're about a third of the way along a roughly circular route of 100 miles, and the event is scheduled to start at 0630. Apparently it won't cause any road closures, but we can probably assume that there might be some brief hold-ups to ordinary traffic during the period that the majority of riders will be passing through.

For a map showing the route, click here. For the Organisers' website, including a short description of the event (there are three different routes, the one that goes through Whiteparish being the longest), click here.
SEEKING IDEAS FOR LOCAL HEALTH-RELATED PROJECTS.
Healthwatch Wiltshire, the consumer champion for health and social care services in the county, is launching a small grants scheme to invest in projects that aim to improve the health and wellbeing of local people. The Community Cash Fund will enable groups to apply for up to £2,000 to start projects in their local community.

The scheme will help Healthwatch Wiltshire get more feedback on health and social care services from people it might not otherwise hear from. Healthwatch Wiltshire Manager, Stacey Plumb said: "This is a great opportunity for groups to get funding for projects that will really make a difference to health and wellbeing in their community. We are keen to hear from anyone who has an idea for a project, no matter how small. This scheme will help us gather more people's experiences of local services, and help ensure that their voices are heard. We're really excited to see what ideas people have and how we can help make them a reality."

It's the first time Healthwatch Wiltshire has run the Community Cash Fund, but projects funded by other Healthwatches in the South West include: dance classes, art groups, health exhibitions, pop up cafes, support groups, music sessions and healthy eating cookery groups. For more information and an application form, click here. Simply fill in the application form and return it to Healthwatch Wiltshire; applications must be received by 5pm on Friday 29 March.

If you have any questions, please contact Jo Woodsford, Volunteering and Partnerships Lead, at joanne.woodsford@healthwatchwiltshire.co.uk or call 01225 434218.
BBC "BACK IN TIME" SERIES.
The makers of the BBC2 series "Back in Time for Tea" and "Back in Time for School" are looking for a new family to immerse themselves in the past. On their website at the time of writing, applications are shown as still open, so if you are interested in volunteering to take part it may not be too late to apply. Brief details are on this poster, which also includes the address to contact for more information.
TEMPORARY CLOSURE OF COMMON ROAD.
Wiltshire Council has notified that Common Road will need to be closed to enable the council to carry out "edge overrun works" and improve roadside verges. The work is scheduled to start on the 10th April 2019 and the road may need to be closed until 19th April.
"ROMANCE SCAMS".
Hopefully, most internet users these days are aware of the need to be always on the alert for people (and organisations) who may try to contact you using a false identity, gain your trust, and cheat you—but new and less experienced users can be vulnerable, and more so at particular times in their lives (or times of the year). Hence a recent press release from the police Action Fraud unit, issued the day before Valentine's Day 2019! To find out how to avoid being a victim of "dating fraud", click here to read the press release in question, where there's also a link to an example of a dating fraud letter.
ANNUAL PARISH MEETING.
Whiteparish residents are invited to come to the Annual Parish Meeting, which will be held on Tuesday 19th March at 7.30 pm in the Memorial Centre, and meet their Parish Councillors. Everyone is welcome. Although it is chaired by the Chairman of the Parish Council, the Annual Parish Meeting is just that—a meeting of the parish. If you have any concerns or wish to raise a particular local matter, then why not come to the meeting and have your say? If you are unable to attend but wish to raise any village matter, please inform the Parish Clerk at maria.pennington456@btinternet.com or telephone her at 01722 711858.
HOUSING NEEDS IN SOUTH WILTS.
On 14th March 2019, at 7.00 pm, Wiltshire Council's Southern Area Board is hosting a public debate in Alderbury Village Hall (SP5 3AD) on the topic of local housing need. According to a poster about the event, attendees will be able to:

– Have a say on what type and how much affordable housing is needed locally.
– Receive information on what the council is doing to promote more housing.
– Get an update on the housing waiting list, broken down per parish, how this is identified; i.e. neighbourhood plans, allocated housing sites, process for updating the core strategy.

For more information please contact karen.linaker@wiltshire.gov.uk or phone 01722 434697.
WILTSHIRE CRIME FIGURES FOR 2018.
At a time when overall crime figures are increasing, it's good to find that Wiltshire Police were one of just four police forces nationally to see a reduction—only of one percent, but at least it's in the right direction. For comments by Wiltshire's Police & Crime Commissioner Angus Macpherson, click here. For statistics freaks who would like to study the full report from the Office of National Statistics, click here.
TEMPORARY CLOSURE OF MOOR LANE.
Wiltshire Council has notified that Moor Lane (Part of), Whiteparish, will need to be closed from its junction with Timberley Lane to its junction with the A36 from 11th February 2019, and it is anticipated that the closure will be required until 22nd March. This is to enable Southern Gas Network to install a new gas main. For further information, contact Sally Merrett (Southern Gas Network) on 02392 624120.
WHITEPARISH SURGERY'S CARER SERVICES.

Whiteparish Surgery's services for local carers have been recognised for the sixth year running with an award from the Wiltshire Investors in Carers GP Accreditation Scheme, and this time it's the recently introduced Platinum Award–the highest level–added to the scheme in recognition of the outstanding carer support provided by many Wilts GP practices. According to the citation, the award is for the "outstanding services and support that Whiteparish Surgery provides to carers". Just one example being the programme of quarterly Saturday-morning Carers' Coffee Mornings held between 09:30 and 11:30 am—the next one is scheduled for Saturday 23rd February 2019.

The awards scheme is funded by Wiltshire Council and the NHS Wiltshire Clinical Commissioning Group and aims to raise awareness of carers' issues in GP practices, with a system of awards to recognise support that the practices provide for carers. To achieve an award, practices need to be able to meet more than a dozen requirements that include maintaining an up-to-date carers' register, have a Carers' Lead, provide flexible appointments for carers, and hold a minimum of one carers' clinic per year. The clinics are run in partnership with the CSW Community Connector Team. For more information about the surgery's services for carers, click here to go to the relevant section of the surgery website.

If you are a carer, there are many advantages in registering the fact that you fulfil that role. For further information please ask to speak to Kim Munro (Carers Lead) or Justine Parsons (Deputy Carers Lead).

The photo shows Carers Lead Kim Munro, who has been closely involved with the surgery's work for carers from the beginning, with the surgery's most recent Platinum Award.
SWAB MEETING AT MEMORIAL CENTRE, 31 JANUARY
The South Wilts Area Board (SWAB)—whose coverage includes the parishes of Alderbury, Britford, Clarendon Park, Coombe Bissett, Downton, Firsdown, Grimstead, Landford, Laverstock, Ford and Old Sarum, Odstock, Pitton and Farley, Redlynch, West Dean, Whiteparish, and Winterslow— will be meeting in the Whiteparish Memorial Centre on 31st January 2019, starting at 7.00 pm, with refreshments and "networking opportunity" from 6.30 pm. The Area Board welcomes and invites contributions from members of the public, and the chairman will try to ensure that everyone who wishes to speak will have the opportunity to do so. For the agenda, with links to other related information, click here.
CONSULTATION ON "VISION FOR SPECIAL SCHOOLS"
Wiltshire Council welcomes the views of parents, carers, pupils, staff and the public on its vision to transform special needs education. The statutory consultation into the future vision for special schools in Wiltshire is now online. People are encouraged to send in their views on the council vision to transform special needs education. For more information, including links to ways to contribute your views, click here.
PCC WANTS YOUR VIEWS ON LOCAL POLICING.
"Would you be prepared to pay an extra two pounds a month for more police officers?"
That's the question being asked by Police and Crime Commissioner (PCC) for Wiltshire and Swindon, Angus Macpherson.

PCC Macpherson is looking for the views of Wiltshire residents on the proposed average increase of £24 a year (for an average Band D property) to the policing precept.

The policing precept, which is collected with your council tax, goes directly to the Police and Crime Commissioner where 98% is allocated to the Chief Constable and the remaining 2% to the PCC's office for commissioned services which includes supporting victims of crime and restorative justice. Currently, the average Wiltshire household contributes £15.19 per month to local policing, but if residents and local businesses back the proposal then this would rise to £17.19 per month.

The PCC said, "Last year, with residents' support, I promised to maintain frontline policing numbers after several years of seeing a decrease. I also pledged to continue investing in mobile technology allowing officers and staff to work in the community. This year, if you agree to this precept rise, I will recruit 41 more officers and 2 dedicated cyber-crime staff."

For the full text of PCC Macpherson's message, including a link to the consultation survey itself, click here. (The survey closes on 31st January 2019.)
FAKE EMAILS ABOUT TV LICENSING.
The police service "Action Fraud" has distributed the following Alert notice:
"Action Fraud has received more than 5,000 reports about fake emails and texts purporting to be from TV Licensing. The messages contain links to genuine-looking websites that are designed to steal personal and financial information.

Always question unsolicited requests for your personal or financial information in case it's a scam. Never automatically click on a link in an unexpected email or text. For more information about how to stay safe online, visit cyberaware.gov.uk".
WHITEPARISH SURGERY REFURBISHMENTS.
As from 7th January 2019, a six- to eight-week programme of refurbishment is ongoing at the surgery, to extend and refit the dispensary and replace all the sink units in the clinical rooms. According to Practice Manager Hilary Jenkins, the staff have planned carefully to minimise disruption to services: the surgery will not be cancelling any clinical sessions during the work, and will be able to offer the same number of appointments as usual. She comments that as with all building projects, the surgery are braced to expect that the unexpected may happen, but are confident that "the end result will certainly be worth it!"
FORMER WHITEPARISH MAN WINS TOP WRITING AWARD.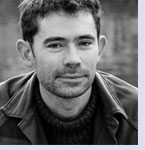 Adam Weymouth, son of Whiteparish residents Keith and Sally Weymouth, has just been named 2018 winner of the prestigious Sunday Times/Peters Fraser + Dunlop Young Writer of the Year award (in association with the University of Warwick), which recognizes the best work of fiction, nonfiction, or poetry, in the view of the judges, by a British or Irish author aged beetween 18 and 35.

Adam's book Kings of the Yukon (published by Particular Books) describes a three-month canoe trip through the rugged and remote Yukon territory of northwest Canada, looking for the king salmon of the title. According to the award's website, the three judges backed the award with unanimous enthusiasm. Andrew Holgate, Literary Editor of the Sunday Times, said "It feels as if we have found, ready minted and hidden in plain sight, a really outstanding new contemporary British voice—one who literary editors . . . almost completely failed to spot on publication." He went on to say: " . . .Weymouth combines acute political, personal and ecological understanding, with the most beautiful writing . . . He is, I have no doubt, a significant voice for the future."

For the complete article, click here.
RENEWING OLDER PERSONS' BUS PASSES
Wiltshire Council have distributed the following notice (in the form of a poster headed "Older persons' standard Wiltshire concessionary bus pass renewal") to parish councils in the county.)
From 1 January 2019, not all bus passes will be renewed automatically. This is because there are approximately 20,000 passes in circulation that have not been scanned on a bus prior to renewal, indicating that the pass has not been used. In these cases the passes will not be automatically renewed.

If your pass is not automatically renewed but you would still like to receive one to use in the future, please contact Wiltshire Council on 0300 456 0100 and we can arrange for your new pass to be issued. Wiltshire Council regrets that any charges which may occur on bus journeys are non refundable.

If you know of anyone who may be affected by this change in the renewal procedure and is unlikely to have seen either this notice or the poster, you can download the poster by clicking here, and give them a paper copy.
AREA BOARD MEETING IN DOWNTON
The South Wilts Area Board say "It would be great to see you at the Area Board on WEDNESDAY 28 November 2018" for their next meeting, which will be at Trafalgar School, Downton (so just down the road), starting at 7.00 pm. To see the agenda, click here.
PARTIAL CLOSURE OF NEWTON LANE ON 10 JANUARY.
Wiltshire Council have sent notice to the Parish Council of the closure of a 225-metre stretch of Newton Lane (from The White House in a north-westerly direction) on the 10th January 2019 for one day, though the duration of the closure may be affected by weather. The closure is necessary for renewal of a telegraph pole. For the full text of the notice, click here. For a map showing the affected section of roadway, alternative route, etc, click here..
WHITEPARISH SKATEPARK OPENING CEREMONY.
On Saturday 8th December 2018, at 2pm, this £100,000 facility in the Whiteparish Memorial Ground will be formally opened by the young design team and Mrs Sarah Skeates, who initiated the project.

Everyone is invited to the opening, come along and enjoy this marvellous new facility, whether a beginner or expert. The grant-awarding bodies will also be invited, along with the press and Wiltshire Council representatives. The skatepark was designed and built by Gravity Skateparks. The Parish Council is extremely grateful for the help given by Mrs Sarah Skeates, a local resident, who worked tirelessly and with great enthusiasm and dedication to accomplish the funding for the new skatepark.

For the full text of this notice, click here.
VIEWS ON LOOS?
Here's yet another current public consultation, this time being conducted by Salisbury City Council on the subject of the city's 11 public conveniences. The council are seeking feedback about charging for their use, which toilets people use, their current state, and what users expect. For a list of the conveniences that the council maintains, including facilities and opening hours, with a link to the online survey, click here. The survey ends on December 12th this year.
ADVICE FOR CARERS & OVER-70s
Whiteparish Surgery are organising a "How can we Help?" session to be held in the Memorial Hall on the morning of Saturday November 24th, between 9.30 a.m. and 11.30. Representatives from the following organisations (and more) will be providing advice and information: Parker Bullen (Will Writing and Power of Attorney), Extend Exercise, The Memory Box Project Group, Wiltshire Farm Foods, Travelling Dementia Suitcase, Healthy Landford Group, Wilts Fire & Rescue (smoke alarms), Carers' Support Wiltshire, Romsey Dementia Action, Music for the Mind, Admiral Nurses, Bobby Van (home security). Refreshments will be available.
"SPAM THROUGH YOUR LETTERBOX?" story: FOLLOW-UP
A month or so ago a villager contacted us about a letter they had just received describing an initiative from an organization called nextdoor.co.uk, for setting up a kind of online neighbourhood network in Whiteparish. Our contact was particularly concerned because although the letter purported to be from someone at another address in the village (someone that our contact didn't know), it was preprinted with what looked like a second-class stamp and a postmark, rather than the real (stuck-on) stamp they would have expected to see.

Regular visitors to whiteparish.co.uk will know that we occasionally include advice about reducing the risk of being a victim of internet scams. However, despite our questioning some aspects of nextdoor.co.uk (as mentioned in the earlier story here), we're glad to report that as far as we can tell it doesn't seem to be one of these—it just has what might (generously) be described as an innovative method of introducing itself in new neighbourhoods as it grows. The preprinted envelopes are a legitimate Royal Mail product, and incorporate a so-called "digital stamp". So we've removed our earlier story. All the same, it seems unlikely that the folks behind nextdoor.co.uk will be setting up all these "free" neighbourhood networks out of the goodness of their corporate hearts! Best guess at the moment is that targeted online advertising will be introduced, perhaps sooner rather than later.
"FOCUSING ON THE FUTURE" EVENT
Another instance of South Wilts getting its turn in a county-wide public consultation will be held in the Banqueting Room of Salisbury Guildhall on November 29th, between 5.30 and 7 pm, when South Wilts residents will have an opportunity to join Wiltshire County cabinet members at a Focusing on the Future meeting. Subjects to be covered are:
Decision making – how we (the council) allocate your council tax to deliver services.
Diligence – how we spend wisely and balance the budget.
Difference – how we're changing.
Digital – how we're making it easier for you to book, pay and do on line – when you want to.
Devolution – how parish and town councils and communities can deliver more services locally.
Delivery – how we will continue to do what we say we will.

Refreshments will be available. Please email the events team (events@wiltshire.gov.uk) if you're interested in attending.
POLICE E, D, & I STRATEGY
Wiltshire Police are currently looking for feedback for developing their new Equality, Diversity, and Inclusion strategy, and to improve policing services in Wiltshire and Swindon. They have already held meetings in Swindon and Trowbridge, and are now taking bookings for a third public consultation meeting, for the South Wilts area, to be held in St Paul's Church Centre on the evening of Wednesday 21st November. For more information on this, including a facility for buying tickets and an online survey available for those who can't get to the meeting but would still like to provide input, click here.
HALLOWEEN: TRICK OR TREATING
"Trick-or-Treating" can be fun for both the trick-or-treaters and the householders they call on—but only if the householders are OK with being trick-or-treated! For householders who would prefer not to have trick or treaters call on the 31st October (perhaps if you're elderly, or for any other reason), Wiltshire Police have made a poster available that you can put in a prominent position by your front door. To download a printable copy of the poster, click here; for general advice about halloween from Wiltshire police, click here.
FIRST PART OF WINTER FILM PROGRAMME
John Herrett of Parish Pictures writes:
"The results of the film choice ballot (see Parish Pictures page) were clear: the most wanted film from the short list was The Post, so we shall be screening this on 13th October. This will be followed by Three Billboards Outside Ebbing Missouri on 3rd November and Adrift on 8th December (provided it's been released by then).

Once again we have Tony's Frying Machine (new van version) visiting after the film on 13th October. It would be very helpful, please, if you would indicate whether you are likely to be enjoying a fish and chip supper with us afterwards: this doesn't have to be a firm decision, but it will help inform Tony about the stock level he needs. (Especially let us know, firm decision, if you want Haddock!) If you're buying your ticket(s) at the shop, tell them and it will be noted.

As always, your feedback, comments and film suggestions are welcome."
Regards, John
FIRST RESPONDER NEWS
Following the retirement from responding of founder Martin Fisher and founder member Sheila Campbell, Whiteparish's Community First Responders have some vacancies to fill! For more on this story, especially if you might be interested in joining Whiteparish CFRs and being trained to help others in a medical emergency, click here.
WILTSHIRE-WIDE KNIFE AMNESTY & CRIME PREVENTION FORTNIGHT
As part of Operation Sceptre—the national knife crime prevention initiative also launched this week (on Monday 17th September, 2018), bringing together police forces co-ordinating ways to tackle knife crime—Wiltshire Police are appealing for people to hand in unwanted or illegal knives and bladed weapons during the period of the amnesty: Monday 17th to Sunday 30th September.

Special amnesty bins are available at six locations across the county: Swindon's Gablecross Police Station, Marlborough Police Station, Melksham Police Station, Chippenham's Monkton Park, Trowbridge Police Station and the Temporary Police Station at the rear of Five Rivers Leisure Centre in Salisbury. The knife amnesty gives people the chance to dispose of knives and weapons by simply taking them to one of the specified police stations and dropping them into an amnesty bin.

During the period of the amnesty those handing in knives and weapons will not face prosecution for possession of a knife or weapon and can remain anonymous. For more details, and the background of Operation Sceptre, click here.
HIRING MEMORIAL CENTRE FACILITIES
After keeping hire charges for the Memorial Hall and Cowesfield Room at the same level for four years, the Memorial Trust has been obliged to raise the cost of booking either of these two rooms from £10 per hour to £12 per hour for hires from the 1st of January 2019 onwards. The old price will still apply for hires up to the end of 2018. For more information about hiring memorial centre facilities, with links to conditions that apply, and a sample hire agreement, click here. (For more on the reasons for the increase, click here for the relevant minutes.)
THANK YOU – HAZEL & SID!
On behalf of the whole village the Trustees of the Memorial Centre would like to express their heartfelt thanks to Hazel and Sid for almost 5 years of managing the Centre and the booking system.

Sid in particular has gone well beyond his normal duties in setting up and packing away furniture for all the events big and small over this period. His help will be missed by many. Enjoy your retirement, Hazel & Sid – and those well-deserved holidays!
GARDEN & HOBBIES SHOW PRIZEWINNERS AND PHOTO GALLERY
Despite the challenging weather conditions, once again the 122nd village show — staged by the Garden Club in the Memorial Hall on 11th August — was a success. Well done to all of you who participated but we would like to see even more entries next year! Congratulations to all winners but especially to Malvin Ward who really stole the show this year; and to Alexander White who beat Hollie Smith by one point to win the Children's Cup. For the full list of award winners, click here. For a gallery of nice photographs taken at the event by Keith Hobbs (to whom many thanks), click here.
OUR MP INTERVIEWED IN NATIONAL PRESS
John Glen, MP for Salisbury and South Wilts and Economic Secretary to the Treasury, was profiled in The Guardian on 28th July in a longish article which understandably concentrated on his views about the recent nerve-agent poisonings in Salisbury and Amesbury. You can read the article (by interviewer Decca Aikenhead) by clicking here.

We don't normally have much to say about Westminster-level political figures in the website, but we thought it worthwhile to include this link because (a) John Glen is after all our MP, and (b) unless you happen to be a regular Guardian reader (not too many of 'em in these parts), you probably wouldn't have been aware of the article, and you might like to at least glance through it.
2018 FETE PHOTOGRAPHS
The website now includes a gallery of photographs taken at this year's fete, which you can view via the link below. Please note a couple of points.
(1) In a test viewing, the gallery was a little slow to load in the first place and occasionally hesitated before between images. This may be because out here on the fringe of the village our broadband performance is currently dire. Hopefully, people with faster connections will not have any problems. We'll still try to tweak the gallery images to improve loading speed, but it may be a few days before we can get round to it.
(2) Photographs of village events on the website are always likely to feature villagers and others who attended, because it's hard to see any other way of conveying the community "flavour" of the event–without people there'd be no event! And we can't always ask permission at the time. But if you appear in a gallery photo and would rather not do so, just let us know who you are and which photo you're in, and we'll either remove the image altogether or crop you out!

To go to the 2018 Fete gallery, click here.
FLOWER & HOBBIES SHOW SCHEDULE
As regular readers and subscribers of Steeple & Street will already know, the July edition of our indispensable village magazine includes the "schedule" that specifies the classes for this summer's Flowers & Hobbies Show. But if by any chance you don't have a copy of the magazine, the schedule is also available as pdf files for downloading from this website. Click here for the top sheet, and here for the main schedule.
RECYCLING CHANGES
From 30 July 2018 you will be able to recycle more materials at home! Under a new waste and recycling contract that starts on that date, you will be able to use your blue kerbside bin to recycle a wider variety of materials including clean food and drink cartons, as well as plastic pots, tubs and trays. For more information (including a few exemptions), see the Wiltshire Council website. It's also on the agenda for the 12th July Area Board meeting in Alderbury (see below).
SOUTHERN WILTSHIRE AREA BOARD (SWAB)
The next Area Board meeting is to be held on Thursday 12th July 2018 at Alderbury Village Hall, Rectory Road. The meeting starts at 7pm, everyone is welcome to attend.
WHITEPARISH SKATEPARK PROJECT
Plans and funding for a new skatepark (or "wheeled sports facility") to replace the old half pipe on the Memorial Ground are well advanced. For more information, with some introductory notes and sketches showing different views of the new facility, click here.
THINKING OF ENTERING SOMETHING IN THE FLOWER & HOBBIES SHOW?
The Garden Club's Flower & Hobbies Show for 2018 takes place on Saturday 11th August, which from memory is a slightly earlier date than in most recent years. We understand that the full schedule of classes will be published in the July and August editions of Steeple & Street (and hopefully on the website), but if you're thinking of entering something in the Art and Handicrafts classes and want to get working on it early, you can find details of those classes either in the June S & S or by clicking here.
SUPPORT VILLAGE FACILITIES AND WIN CASH PRIZES WITH THE 100+ CLUB!
With the end of the Club year fast approaching it is time for existing members to renew your numbers and an opportunity for new members to join this Club to raise vital funds to maintain the village facilities on the playing field—specifically the children's playground, the MUGA (multi user games area) and the Memorial Centre.

Club members participate in the monthly Club Lottery with a prize fund of up to £100 as well as the special Christmas draw with prizes of £300. Existing members should follow the instructions in your renewal letter to continue for another year. To find out more about joining the club or renewing your membership, click here.
HAVE YOUR SAY ON RURAL CRIME AND POLICING IN WILTSHIRE.
(Extracts from an email sent by the neighbourhoodalert.co.uk website people.) "There are just a few days left for rural communities to have their say on crime and policing where they live.

The National Rural Crime Survey comes to an end on 10 June 2018 and is asking key questions to ensure the voice of the countryside is heard. Do you think rural crime has gone up or down in Wiltshire? Do you feel safer? What's your view of the police in your community?

Three years ago the last National Rural Crime Survey revealed the huge cost of crime to rural communities—both financial, at £800 million per year, and fear, with chronic under-reporting, anger and frustration at the police and government. The National Rural Crime Network produced a series of recommendations and, in many areas, the police took steps to improve matters. So, now, we want to know what's changed. We want to know the true picture of crime and anti-social behaviour in rural communities across Wiltshire—and the impact it has where you live or work."

For more information about the survey you can read the whole text of the release by clicking here. Or to go straight to the online survey itself, click here.
FAIRY MISSING FROM COMMON RD GARDEN.

A Common Road resident has just emailed us with a sad and worrying story about the theft of a garden ornament (see left) of great sentimental value to her and her husband. She is particularly concerned in case this might be the start of a spate of such thefts in the village, and wants to warn residents to try to make their own garden ornaments secure.

As she writes: "[the fairy's] dimensions are weight approx 4.5kg, height 54 cm. We are extremely surprised that someone who walks past our garden has seen it and decided to come into our garden and take it. We have reported the theft to the police but are concerned that now this has happened maybe other things may be taken by this opportunist . . . I would ask if anyone has seen anything or knows of someone that has recently acquired a fairy, where they got it from? We would really love to get her back. We are extremely upset and are now concerned that this type of thing could happen again in this area."
WARNING FOR TSB CUSTOMERS.
It seems possible that Whiteparish might have a higher-than-average proportion of TSB Bank customers, since the former Lloyds Bank branch in Romsey became a TSB branch fairly recently. But whether or not that's so, TSB customers need to be aware of recent increased activity by fraudsters hoping to take advantage of TSB's recent difficulties with its online banking services. Action Fraud reported an increase of 970% in attempted phishing attacks on TSB customers during the first 3+ weeks of May 2018, compared with the same period in the previous month. For more details of how to avoid being taken in by the phishing attacks just referred to (and "smishing attacks", too), click here to see Action Fraud's notice in full.
AREA BOARD MEETING.
The next meeting of the Southern Wiltshire Area Board (SWAB) will be held at Pitton Village Hall on Thursday 3rd May, at 7.00 pm. To see the agenda, click here.
KING'S HEAD PLANNING APPLICATION.
At a meeting of the Wilts Southern Area Planning Committee held on April 12th 2018, the commitee passed planning application 17/12499/FUL & 18/00274, relating to the following proposed work at the King's Head: "Single Storey Rear Extension (Orangery) to Pub Building & Separate Barn Conversion/Restoration with extension to provide Lodging".
BEAST FROM THE EAST 2 = NOT SO "MINI".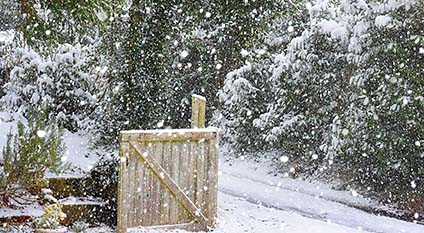 After what the press called "the beast from the east" gave us a pretty good snowfall at the beginning of March, we were promised what they rather unoriginally called "the Mini-beast from the east" a couple of weeks later. And it duly turned up on the night of 17th/18th March. The forecast had suggested it would peter out in the early hours, but it didn't, and when we opened the back door at 8.00 a.m. it was coming down in bucketfuls (see pic). Thawed somewhat during the day, but forecast suggests there's more to come overnight. We'll see!
GOING TO THE TIP? DON'T FORGET YOUR ID!
Wiltshire Council's Waste Management dept are introducing a proof-of-address scheme at Wiltshire's recycling centres, which will of course include the Household Recycling Centre on Salisbury's Churchfields Industrial Estate. From the 9th April 2018, if you want to use any of the county's recycling centres you may be asked to provide proof of address, such as your driving licence, a county tax bill, or a utility bill. This policy is being introduced "to ensure that access to sites is protected for those people resident in the Wiltshire Council area. Dealing with waste is becoming increasingly expensive and as these sites are funded by Wiltshire Council tax payers we need to ensure that we do not incur costs associated with receiving waste from people from other council areas. People who do not pay their council tax to Wiltshire Council should use the sites provided in their own local authority area."

For more information, see the Salisbury Recycling Centre's web page, which includes links for downloading PDF files for summer and winter opening hours.
OPEN SPACE IN HIGHLANDS WAY.
Wiltshire Council's Countryside Team is looking for volunteers to help look after the small area of green space at Highlands Way. Could you help them? This small wooded area is on the right hand side as you enter Highlands Way. It's excellent for nesting birds, and as it contains several fruit trees it is also a good food source for wildlife. Please contact them if you'd like to get involved as a volunteer–families also welcome–to help look after this site for wildlife and nature conservation. With no previous experience necessary and no long-term commitment required, this provides a great opportunity to get out and about, meet new people and gain new skills as you try your hand at a variety of fun conservation tasks.

Work would involve cutting back overhanging vegetation, keeping the path clear of nettles/brambles, and a litter pick. We'll also see whether the area would benefit from bird or bat boxes, and look at ways that we could enhance it further for wildlife. Our next Conservation Working Party dates are as follows: Thursday 15th February, Thursday 5th April, Thursday 30th August, Thursday 27th September.

Interested? Please contact the Countryside Team by emailing mailto:countryside@wiltshire.gov.uk<, or telephoning 01225-718647. The countryside team say a big thank you to the conservation volunteers that came along to help clear back vegetation and bring the area back under control before Christmas, we couldn't have done it without you!
---
ARCHIVED HOME PAGE ITEMS
By late 2009, and then again in late 2012 and 2013, and then again in 2015, and again in 2017 (and so on), the home page had grown to a ridiculous length (because we'd simply been adding to it for far too long). So there is a separate archive page for older material, which you can view by clicking here.
Forthcoming News and Events:
Click here for our Forthcoming News and Events list, or see the diary sections for individual organisations. To suggest an event to be featured on the website, email us at events@whiteparish.co.uk.