LOCAL FOOTPATHS, BYWAYS, BRIDLEWAYS, ETC.
The Parish Council have kindly sent us a map (reduced version shown below) showing footpaths, byways, and bridleways within the parish of Whiteparish; together with the major roads, minor roads, private tracks, streams, boundaries etc to provide the context. To download a pdf file that can be viewed in Adobe Acrobat Reader, click here. If you prefer a jpg image file (1568 x 1113 pixels), click here.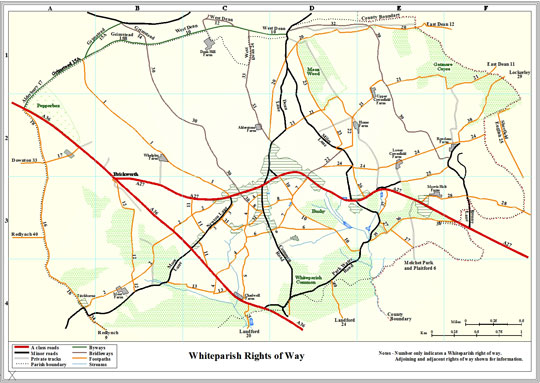 Notes:
The numbers shown on footpaths, byways, etc are only reference numbers used for convenience in referring to those particular rights-of-way. Around the parish boundary, any footpaths etc in adjoining parishes are included for information, with the name of the other parish and that right-of-way's reference number within the other parish also shown.